Biophysical reality

genes | gender | types | light | biophysical | Earth's biomes | bio-ecology | biocenose | maps
Genes
"Nothing in biology ever seems to work perfectly, and this is especially true for X chromosomes."
X in Sex, Bainbridge, p. 161.
Some guiding principles with respect to genetics and living creatures:
Everything you ever thought is wrong.
Anything you can imagine, nature has probably already tried.
Life, living beings, are more complex than we can think.
What you see from a genetic perspective is only half of what you get.
Gender is more than a matter of two opposite sexes

The matter is not nature versus nurture
It is more like how nature, nurtures (through genes and proteins) these natural adaptations (behavior) to changing conditions (environs).
| | | | |
| --- | --- | --- | --- |
| Factors | male | | female |
| Chromosomes | xy | | xx |
| Genes | SRY | | X suppression |
| Hormones | Testosterone | | Estrogen |
| Behavior | assertive | | unassertive |
| Culture | gods | | goddesses |
Gender is the least understood and most difficult of biological subjects to consider, partially because what generally appears to be the case, is not in every situation that same set of factors acting to create apparently similar outcomes. For example some cultures trace the lineage of their children through the mother's line and are called matrilineal, and others trace the descent of children through the father's line and are called patrilineal. But, according to David Bainbridge, biology has far more in store for us than we could ever imagine.

genes | gender | types | light | biophysical | Earth's biomes | bio-ecology | biocenose | maps
Biological order is a messy matter, suffice to say it differs substantially from physical order of the macrocosm.

In genetics any conversation involving genes brings us face to face with distinguishing the actual condition from the appearances. This is difficult, to say the least because the appearances in genetics are called phenotypes and the underlying chemistry of the chromosomes are called "genotypes."

Proteins are some of the inheritable phenotypes (appearances in genetics) that allow bacteria and plants to utilize certain band-widths of the visible spectrum to obtain energy, to photosynthesize. By chemosynthesis or photosynthesis plants and bacteria manufacture the sugars and starches that cells need to function well.

Plants have proteins that absorb light at two frequencies in the red and blue ends of the spectrum above that triggers photophosphorylation, a key step in photosynthesis. Photosynthesis is the process by which plants and some bacteria use water, carbon dioxide, some trace nutrients and light to make sugar (glucose) and oxygen. This process is the basis for most oxygen breathing creatures on Earth. Most of that transformation takes place in the upper levels of the oceans by phytoplankton, but terrestrial vegetation also plays an important role in providing sufficient oxygen for life and combustion to occur.

genes | gender | types | light | biophysical | Earth's biomes | bio-ecology | biocenose | maps

Bios is from the Greek root (radis, for radical) meaning a life or a life cycle, hence the words biography as opposed to biology, or the study of living things.

Physical is from the Greek root word --physis-- for the material conditions of existence. It conveys the ideas of form and function of the objects and things we see, feel, touch, smell, taste, measure or otherwise observe around us.
The Earth
From a planetary perspective, life zones --places where climate, rainfall, and temperature patterns dictate the sort of vegetation, fungal, bacterial and animal mix of life-- are grouped into larger associations called biomes. Biomes are based on vegetative associations such as grasslands, forests, woodland-savanna, tundra, or alpine conditions, first described by Alexander Von Humboldt in the Andes and later C. Hart Merriam in the North American desert southwest.

Biomes of the Earth.

The Earth's biomes are land areas that extend in wide parallel belts except where mountain ranges or oceans interfere with the generalized east to west pattern of dispersal. Mountain ranges have a decided impact on the movement of plants and animals emerging as effective barriers to the movement of air currents, rainfall patterns, and genetically compatible breeding populations.
If the area of the land occupied by the earth's nine major biomes is depicted as a pie chart the planet's dry land --approximately 30 percent of the globe-- looks like this:
These biomes indicate how the physical conditions of the planet's oceans and landforms intercept solar and geothermal radiation transforming the available energy into living communities.

genes | gender | types | light | biophysical | Earth's biomes | bio-ecology | biocenose | maps
Biome is a noun, used in Ecology since the 1900s to designate a large naturally occurring community of flora and fauna occupying a major habitat, e.g., forest or tundra, desert or grassland.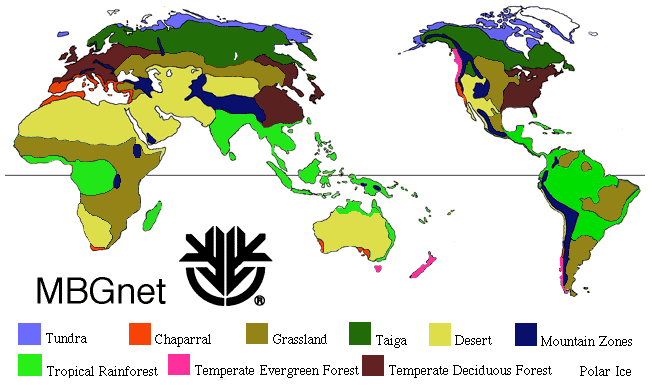 Missouri Botanical Gardens map of the Earth's biomes

genes | gender | types | light | biophysical | Earth's biomes | bio-ecology | biocenose | maps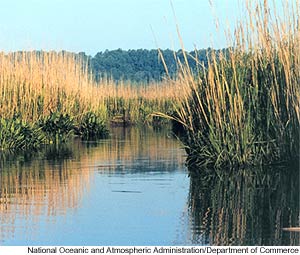 An interesting comment about hidden dimensions

genes | gender | types | light | biophysical | Earth's biomes | bio-ecology

genes | gender | types | light | biophysical | Earth's biomes | bio-ecology | biocenose | maps
Annotated Science Index | Social Analysis | Darwin Index | Aldo Leopold Index | Science means?
Genetics | Science Index | Site Analysis | Population Index | Global Warming Index | Nature Index | Terms | Glossary | Word webs
Basic vocabulary | Advanced Vocabulary | Antonyms | Synonyms