A Sense of Place, naturally speaking.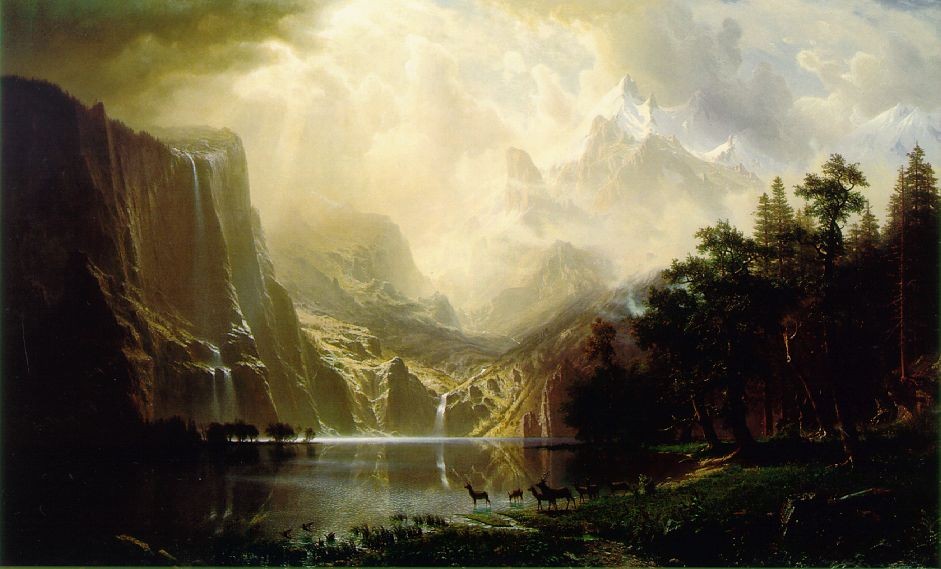 Albert Bierstadt (1830-1902), Among the Sierra Nevada, 1868.
oil on canvas
overall: 72 x 120 1/8 in. (183 x 305 cm) frame: 96 1/4 x 144 3/8 x 7 1/4 i
Smithsonian American Art Museum
Bequest of Helen Huntington Hull, granddaughter of William Brown Dinsmore, who acquired the painting in 1873 for "The Locusts," the family estate in Dutchess County, New York
1977.107.1
The Sierra Nevada was known from 1860s the as the "range of light,"when Bierstadt captured their prominence in this and several paintings done from his sketches, establishing a sense of their mass, change in relief, landscape features, and stunning vistas.
---
Places | Places are geometric and have dimensions | Altered states of being | A field for a game

Understanding ecological history and historical geography are basic bodies of knowledge for us to comprehend a place: so too are the lives of artists and their paintings, photographers and their photography, film and video.
Both of these subjects approach natural history from a functional and a spatial perspective and require us to look at the definition of nature.
Ancient origins of places as an idea
American scenery, appreciation of vistas in art.

With respect to space from an artistic perspective, for example, Albert Bierstadt was a native of New Bedford Massachusetts, but studied in Düsseldorf from 1853 - 1855, having first seen the western US just before the Civil War (1860-61). His painting the Rocky Mountains was first exhibited in New York City, in 1863, to enthusiastic crowds and great fanfare. His artistic celebrity waned in the 1880s but he is credited with bringing the monumental landscape features of the nation's western states and territories to the attention of a wealthy, literate, urbane, and sophisticated, Eastern audience.
Thus it is hard to sense the values of a place without seeing it and in the nineteenth century, before photography began to revolutionize landscape painting, works by artists such as Thomas Cole, Asher B. Durand, Frederic Edwin Church, Martin Johnson Heade and brought the sense of place to a nation who could not actually experience the the West. This was the period when certain western landscapes –noted for the value of their scenery– were being set aside for their scenic monumentality.
For instance, until Bierstadt's 1866 painting of Yosemite Valley, few if any of his fellow countrymen could have understood the scenic reasons Frederick Law Olmsted Sr. had suggested the valley be protected. President Lincoln, in 1862 had granted to the state of California the core of Yosemite Valley as a preserve to be protected for visitors to see the scenic wonders of the valley for all time.

---