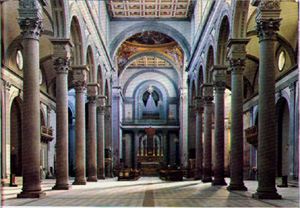 "analysis and conceptualization often depended on measurement and scale drawing. Filippo Brunelleschi, just before 1420," used scale drawings so he could conceptually model larger structures. Brunelleschi was responsible for the construction of the great dome on Florence's Cathedral church.
The mastery of two different ways of knowing applied and abstract; arts and technical details versus analysis and synthesis was manifest in Leonardo da Vinci.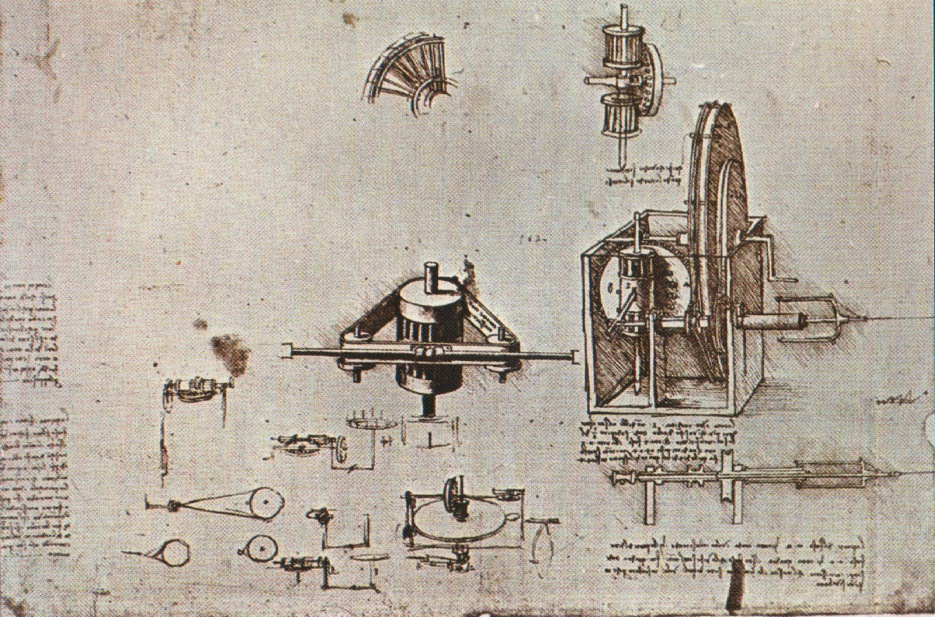 Da Vinci's notebooks were his technical and artistic means to re-envision the world.
1410, Town clock in Prague constructed to represent the movement of the heavens
1452, Leonardo da Vinci was born
he grew up to become a naturalist, artist, and engineer.
1469, he came to Florence

Brunelleschi designed the dome of the Cathedral in Florence, above.
He was not really that practical: ten tons of iron in da Vinci's large cross-bow design.
1482, he moved to Milan
1514, Church accused him of necromancy for dissecting human bodies which was illegal then.
1534, moved to France at the behest of the French Court
A time of transformation from:
landed wealth to money as a measure of value.
feudal loyalties waned in the face of imperial patronage -- (joint stock companies).
vernacular languages replacing Latin and Greek.
humanist ideology was replacing scholasticism.
engineering due to the need for siege works became a specialty.
the earth as the center of the cosmos was replaced by the sun and solar system.
books and printed documents were replacing hand copied (calligraphy) parchment.
The reformation (1517) replaced the authority of Rome; catholicism gave way to national churches.
11558 Fall of Calais from England to France

1561 Fallopius published his Observations on Anatomy
1562 Akbar the Mogul Emperor of India
1563 Cathedral built in Mexico City
1566 Netherland's revolts against Spain & the Inquisition
1572 Catherine de' Medici assists in Protestant massacre
1587 Beheading of Mary, Queen of Scots
1593 Portuguese & Dutch colonize Africa
1602 Dutch East India Co. established
1607 Jamestown, Virginia founded
1628 New Amsterdam (York) founded by the Dutch
1648 Treaty of Peace of Westphalia ends the 30 years war
1680s Locke assists in the founding of the Carolina colony
1688 "Glorious Revolution" William & Mary's reign
Francis Bacon's idea about the central importance of experimental research in order to improve human conditions.
"Francis Bacon, captured the spirit of the new approach in important respects. And Bacon not only wrote about how science should be studied in terms of collecting, classifying and analysing facts, He also put forward ideas about how scientific work should be organized, and how it could benefit from collective effort, with an implicit division of labour."
Pacey, Technology in World Civilization, pp. 97-98.
As slow but steady accumulation of power in Europe with respect to Persia and the Ottoman Empire was occurring.
Spain and France fought over Italy (1500), Spain fought in the Mediterranean against the Ottomans and broke their power in the Battle of Lepanto and the control of the Levant (Syria & Lebanon).
A Christian naval fleet was assembled under the overall command of Admiral Don John of Austria. Although young (in his twenties), Don John was a capable naval commander. The Spaniards were led by Santa Cruz, the Genoese by Andrea Doria, and the Venetians commanded by Agostin Barbarigo and Sebastian Veniero. The fleet under Don John's command was some 300 ships strong, with over 100 ships and 30,000 men being supplied by Philip II of Spain alone.

The Ottoman Turks had raised a fleet of 181 ships, carrying some 30,000 soldiers, and Malta was the prize they sought. Their goal was to plunder and sweep all the ships of Christian Europe from the Mediterranean. Then, in control of the sea lanes and trade routes, with their naval and economic power supreme, all of Europe would be set to fall before them.
At dawn, on October 7, 1571, the two fleets met. Only 40 Ottoman ships survived the five hour ordeal of battle. The victory was celebrated throughout Europe, despite the rift of the Reformation.

timeline | historical periods | chronological thinking