Schedule:

Spring semester 2013.
On the map here above at the right you will find a link at the intersection of L-4; Holt and Park Avenues is my office location.
My courses | How to contact me | What I do in spare-time? | site-search | Office hours
---

I am a faculty advisor to the following student organizations:
---

Subjects

that I am teaching this term:

Courses

Prefix

Days

Times
Venue

The World at 7 Billion
ENV-205.H

M-W-F

9:00 PM - 9:50 PM

Reeves, The Lodge.

Environmental History
ENV 380.1

M-W-F

1:00 PM - 1:50 PM

Chapel Room - 2

Islands in the Stream
ENV-347.1

T-Th

3:30 PM - 4:50 PM

Olin, Room - 220
February 16, 2013


Office Hours are for consultation with students and in addition to the hours below by appointment from January 20, 2013 until April 21, 2013.
---
---
At other hours by appointment only.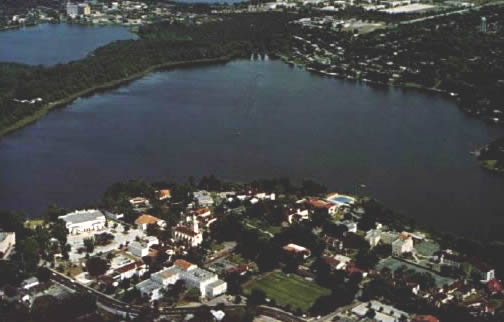 Rollins College Campus aerial view looking south, 1989.
Make an appointment by calling 407.646.2392, or me directly at 407.646.2648 and 407.234.4482 (cell) or by Electronic Mail .
---

Beal - Maltbie Building, Environmental Studies. Where is that?

Beale-107 is My office. It is closest to the corner of Holt and Park Avenues, next to the Rice Family Book Store and across from the Soccer (playing) Field. [ Just behind the intersection of L-4 on the map at the top of this page.]
407.646.2648

407.646.2392, for messages.

407.646.2265, Facsimile number.

407.234.4482 mobile phone.

Spring, 2013.

Please call or write to me:
Joseph Siry, Ph.D.