Any metaphor is a comparison of two unlike things:
---


"The metaphors and symbols which we use to describe our experience of the world are only valid within the limited context of our experience & cannot be used outside it; they are useful simplifications of the world and must never be confused with the much more complex reality which they represent."

"The confusion of the symbol with reality is idolatry, and that is a sin to which we are all prone."


Today we all experience a "failure to recognize the context within which the metaphors and symbols of science and religion are valid.

Hanbury Brown, The Wisdom of Science , p. 182.

This is a time lapsed photograph of the actual movement of the planets in our solar system as the course of the year advances. What do you see in the photograph and what would account for such a pattern?
Each of the planets moves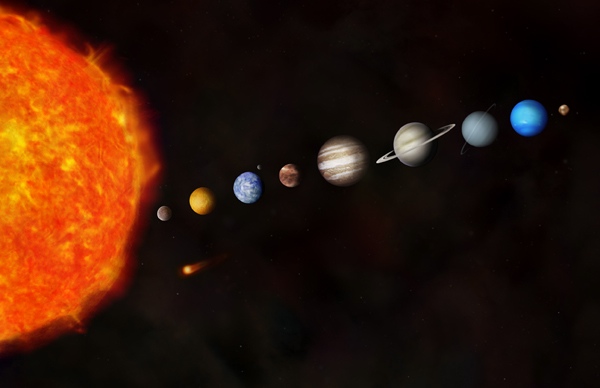 either in an orbit within or outside of the earth's orbit of the sun.
Inner planets are:
Mercury
Venus

The outer planets are:
Mars
Jupiter
Saturn
Uranus
Neptune
Pluto (reduced to a planetoid)

---
Bronowski
"this picture of the phenomenon in isolation from the rest of the world and from the observer turns out to be false."
There comes a time when it will not do any longer even as an approximation [for example the location of the planets] Then it turns out that time and space, which Newton thought absolute, cannot be given physical meaning without the observer.
"And as we refine our measurements, the limitations of the observer look larger and larger. The experimental errors are woven into the very substance of the world."
The lunar and solar calendars require adjustments.
28.5 days = 1 lunation of moon about the earth

19 year cycle = 235 lunations

On the Julian calendar by 1425, the vernal equinox fell earlier and earlier than March 21

By 1570, the equinox was falling 10 days before 21 March!

The October 1582 calendar was calculated on the basis of the Copernican model of the cosmos.

umwelt, or underlying character of things.

uncertainty, a fact of the human condition.

unity inherent in the natural sciences.

Feynman | Gell-Mann | Hawking | Hooke | Newton | Einstein | Galileo

Jacob Bronowski | Stephen Hawking | Ernst Mayr | Ian Tattersall | Charles Darwin

bias | body of knowledge | basic science
Terms | obscure words | Words | Basic vocabulary | Advanced Vocabulary | Antonyms | Synonyms | Etymology | Concepts
Writing | Interviews | Free Writing