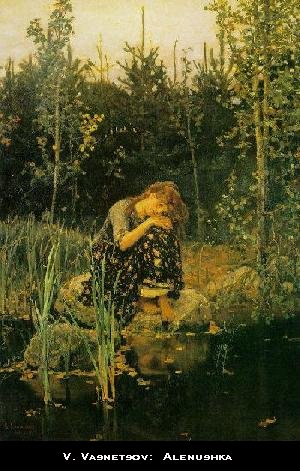 Viktor Mikhailovich Vasnetsov was a painter whose works revealed an important facet of Russia's art during the period of Russian Revival. The son of a country priest, he attended a seminary before beginning his artistic education at the Petersburg Academy (where he studied with I. N. Kramskoi) and later, at the Academy of Arts. Although initially (as a member of the Wanderers, a progressive art movement) Vasnetsov created many genre scenes, his style changed as the tide of public support turned against such prosaic, "social" art. By 1880 he was busy painting historical and legendary scenes taken from Russia's colorful past, and it is in this role that he (overtly) embodies so much of what the Russian revival was all about. Although by now there are some who doubt the enduring quality of his work, during Vasnetsov's lifetime he enjoyed at least a moderate level of popularity and appreciation and fulfilled various commissions for both museums and churches.
Rosa Newmarch wrote that Vasnetsov's work exhibits a "union" of iconographical values and modern technique; such an opinion is best upheld by examining his work in the Cathedral of St. Vladimir, which he completed at the end of the 19th century. His The Mother of God with the Infant Christ, for example, adapts the iconographic tradition to a more "realistic," lively approach.
In addition, Vasnetsov was probably the first painter (as opposed to an artisan) to create theater backdrops; he began working in this capacity during the 1880s and 1890s. These efforts were also an expression of the Russian Revival, for out of his work and that of his followers sprang the idea of "realistic theatrical décor," which contributed much to the development of the Russian theater and ultimately was quite influential in Western Europe. Vasnetsov even dabbled in architecture; both a small church in Abramtsevo and the façade of the Tretyakov Gallery (in Moscow) were based on his drawings.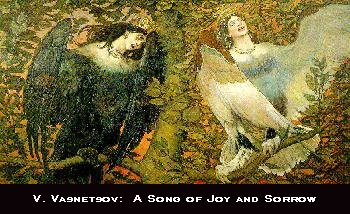 Despite the multi-faceted nature of his work, Vasnetsov is best known for his work in historical and legendary painting. As Newmarch states, "the dominant note of Vasnetsov's art is his intense and inviolate nationality;" indeed, during such a period of nationalist revival it would be difficult to ignore, and unjust to denounce an artist so talented and committed to his work. A scrupulous researcher (perhaps influenced by his brother, a painter and archeologist Appolinarii Vasnetsov), Viktor Vasnetsov worked hard to add a certain poetry and carefully designed atmosphere to historical accuracy. Even the landscape backgrounds of Vasnetsov's historical paintings were influential on their own, and created a profound impact on the development of Russian landscape painting. Ultimately this influence, and that of all his work, may have been the result of his skillful union of "mysticism and . . . realism" which so characteristically reflected the epic quality of Russia's early history. [C.B.]

© Alexander Boguslawski 1998-2005

(Home)