Gale Christianson, Greenhouse. NY: Walker and Company, 1999.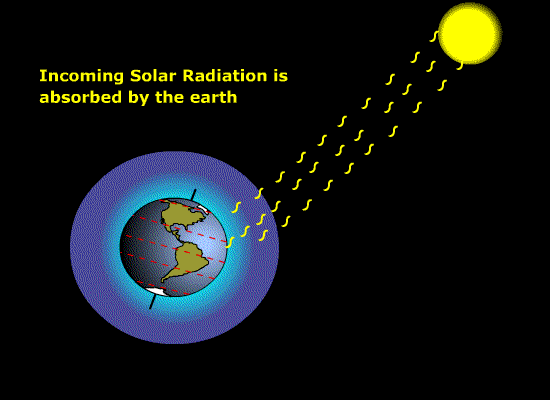 Joseph Fourier in the 1820's were among the earliest speculations on changes in the atmosphere due to heat trapping gas exhaust from combustion.
(11-12)
"This is the sort of evidence that has lead at least some scientists to conclude that the signature of the increasing green house effect is already here -- not just something calculated for the 21st century, but here now."

Carl Sagan January, 1990.
(211)
---
Source:
Greenhouse: The 200-year Story of Global Warming

Gale E. Christianson    (NYC, NY: Walker & Co., 1999)

"it is we who deceive ourselves"     Jean Jacques Rousseau
Contents
H.G. Wells: "The past is but the beginning of a beginning and all that is and has been is but the twilight of the dawn"

Herman Melville, "All my means are sane; my motive and my object mad."

Walter Lippmann: "...we are involved in the world's problems."
---
Chapters

Preface

1          The Guillotine and the Bell Jar                            
2          The Cryptic Moth                 
3          "Endless and as Nothing"

4          Quest for the Black Diamond  
5           Cleopatra's Needles    
6          Vulcan's Anvil                      
7          The Phantom of the Open Hearth          
8          "The Dynamo and the Virgin"   

Part Three    "The Dwellers in the Crystal Palace"

9          Native Son   
10       "Never A Man"          
11       Threshold    
12       A Tap on the Shoulder       
13       Pendulum                
14       A Death in the Amazon
15       The Climatic Flywheel       
16       Cassandra's Listeners     
17       Signs & Portents                
18       Scenarios    
19       Kyoto 
Coda


Hints that something is amiss
Edith's checkerspot butterfly's range extended north; coral reefs bleaching worldwide.
(212-213)

signal
carbon 13 isotopes in marine sediments are consistent with a major gas release
acts as a tracer of warmer ocean temperatures and a release of methane (from a cold trap)
(221)

impact
17-43% loss of wetlands (EPA) due to a 2 foot sea level rise.
(245)
---
Political agreements to reduce carbon dioxide pollution
Kyoto Protocol (1997): Nation's C02 emissions had been proposed to be cut back (reduced):
              USA 7% reduction below 1990 levels
              Japan 6% reduction
              EUC 8% reduction
---
How: Set an energy course for decades to come.
… coal fired plants converted to natural gas,
… fuel efficient automobiles,
… ending fossil fuel subsidies that keep price of oil and coal artificially low!
Kyoto negotiations: "immensely important turning point." Adams (NRDC)
"historic landmark in environmental protection."
Clapp (NET)
"we are dancers in the ring, unable to see the beginning the middle or the end."
---
Eleven major US corporations: at its inception joined the Pew Center for Global Change
(271)
Whirlpool, 3M, Toyota, Sunoco, United Technologies, Lockheed-Martin
agreeing that:

"enough is known of the scientific and environmental impacts of climate change for us to take actions to address the consequences....to implement market-based mechanisms were adopted in principle." i.e. saving and replanting forests. "no panacea"–is necessary–but not sufficient–cleaner technology and reduce our dependence on fossil fuels [gas, oil, coal].
Kazakhstan and Argentina have agreed voluntarily to cut emissions.
---

We need:
financial incentives, technological research, demonstration projects at cutting greenhouse gas emissions
"...polls show that up to two-thirds of the voting public are deeply concerned about the future of the environment."
(276)
"The Earth seems to have developed a fever…"

Henry Pollack, University of Michigan, physicist.
(277)

Recent IPCC findings: Third Assessment | Fourth assessment | Fifth Assessment
Archer | Archer conclusion | Christianson | Crowley | Gelbspan | James Hansen, 04 : Hansen 06 | McKibben| Musil | Schmidt | Weart | Wigley