Department of Defense procurement and renewable energy


"The report concludes the Defense Department already is observing the impacts of climate change in shocks and stressors to vulnerable nations and communities, including in the United States, the Arctic, the Middle East, Africa, Asia and South America, officials said."
U. S. Depratment of Defense, WASHINGTON, News Article: July 29, 2015
What will climate change bring?
"the inherent inertia of the climate system (in that past emissions will cause future warming) means that a certain amount of climate change is 'locked in'. " 1

p. 1153.
Defense Department report:
"Geographic Combatant Commands (GCCs) incorporate the risks posed by current and  projected climate variations in to their planning, resource requirements, and operational considerations.
GCCs, often at the request of partner nations, cooperate with other nations on adaptation practices, resilience, environmental considerations, and risk reduction.
Climate-Related Security Risks– Global climate change will have wide-ranging implications for U.S. national security interests over the foreseeable future because it will aggravate existing problems

such as poverty, social tensions, environmental degradation, ineffectual leadership, and weak political institutions— that threaten domestic stability in a number of countries.
 Each GCC's assessment of risk reflects how this range of factors will affect security in its Area of Responsibility (AOR).
GCCs generally view climate change as a security risk because it impacts human security and, more indirectly, the ability of governments to meet the basic needs of their populations.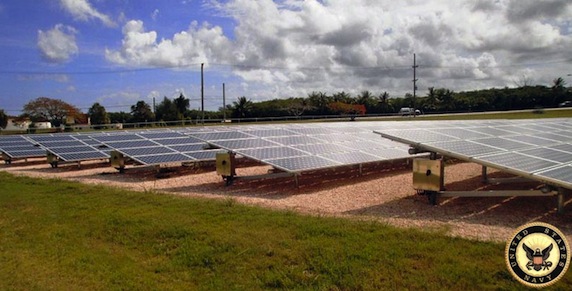 Deep Background
Dr. Dyer's talk in Cambridge took place on September 16, 2010.

Efficiency and Renewable Energy Initiatives
"The U.S. Department of Defense [DoD] is the nation's largest energy user." 2

2010 MOU between the Defense & Energy Departments.

Conserving energy and switching to sustainable energy fuels can "serve as a force multiplier, increasing the range of endurance of forces in the field while reducing the number of combat forces diverted to protect energy supply lines."

". . . innovation has the potential to yield spin-off technologies that benefit the civilian community as well." 3

Initiated & reported 2011

Highlighted Initiatives:
"net-zero" energy goals

"Net-zero energy means the installation produces as much energy on-site as it uses."

Navy had a goal of reducing non-tactical petrol use in its commercial fleet by 50 percent last year.

"Solar Portable Alternate Communication Energy System" [SPACES] to charge batteries and run electronics and communications equipment in field operations.

EESI, "DoD's Energy Efficiency and Renewable Energy Initiatives." July 2011.

Military is slowly cutting fossil fuel reliance
5 percent goal in reducing fossil fuel dependence was not met, DoD cut by 4 percent as of July 2013.

"Seventy-five percent of the renewable energy procured or produced in FY 2012 actually came from the department's 679 renewable energy projects.

Areas where geothermal energy is most reliable for electricity.
By the way, with solar and wind the marquee renewable energy sources in the public eye, you might be surprised at the breakdown of those projects:
Geothermal electric power is by far the most significant renewable energy source in DOD, accounting for nearly half of the Department's renewable energy goal attainment. 

US Military Faces Trio of Renewable Energy Goals:
"US Military Faces Trio of Renewable Energy Goals Legislation and the president are putting pressure on the U.S. military to step up its game on renewable energy." Earthtechling, Pete Danko.
Wind and solar energy do not require water to turn into steam.
National Renewable Energy Laboratory, [NREL]. U.S. Department of Energy; runs the NREL, whose foucus is "on creative answers to today's energy challenges. From breakthroughs in fundamental science to new clean technologies to integrated energy systems that power" people's lives.

The intersection of international politics and planning for abrupt climate change on the basis of a four to six degree Celsius average, warmer world.

"On the positive side, a 'securitized' climate debate might be able to marshal sufficiently compelling arguments to encourage the politicians to do something about reducing emissions and investing (carefully) in adaptation. These are things the international community should be doing anyhow and, done well, are consistent with enhancing security and reducing the potential for conflict at all scales." 1

"The climate deal that almost 200 countries agreed to in Paris last Saturday was far better than most insiders dared to hope

The biggest emitters of greenhouse gases, China and the United States, are finally on board. There is money on the table to help poor countries cut their emissions and cope with warming. They have even adopted a target of holding the warming to only plus 1.5 Celsius degrees, instead of plus two degrees that was the goal when the conference opened.

So the thousands of delegates who spent two weeks dickering over the details of the deal in a drafty hall north of Paris felt fully justified in cheering and congratulating one another on a job well done. It's a pity that the deal won't stop the warming.

The plus-two limit was always too high. It began as a scientific estimate of when natural feedbacks, triggered by the warming that human beings had caused, take over and start driving the temperature much, much higher. It was a fuzzy number: at somewhere between plus 1.75 and plus 2.25, the feedbacks will kick in."

"Dyer: Cheers and fears at climate talks"
By Gwynne Dyer, Special to Postmedia Network
Friday, December 18, 2015 4:13:38 EST PM.
Sources
Current context
The U.S. Department of Defense (DoD) is the nation's largest energy user. ... EnergyEfficient Acquisition: Evaluation of energy factors will be mandatory when ... Produce at least 50 percent of shore-based energy from alternative sources.
www.greentechmedia.com/.../us-military-faces-trio-of-r...
Jul 3, 2013 - If the question is, "Will the U.S. military reach its renewable energy goal? ... of its electricity consumption came from renewable energy sources. ... FY 2025renewable energy goals," with total production and procurement.
November 13, 2014 defenseenergy.com/program/slides2014/Chris_Gladbach.pdf
Nov 13, 2014 - U.S. Department of Defense (DoD) Renewable Goals. » By 2025: 25% of procurement from renewable sources, equal to one (1) gigawatt.
www.seia.org/...resources/enlisting-sun-powering-us-military-solar-energ...
May 17, 2013 - Solar provides the DOD with a clean source of energy generation and ...the procurement of 1 GW of renewable energy capacity by 2020.
energy.gov/.../renewable-energy-pro...
United States Department of Energy
To find a federal renewable energy project, browse the table by agency, technology, ...Department of Defense (DOD), U.S. Air Force, Otis Air National Guard Base .....Project highlights: Part of the Federal Aggregated Solar Procurement Pilot .... Project highlights: The largest federal wind purchase from one source;

Ground water contamination at the Otis Air National Guard Base is a major Superfund site for EPA.
Military history context

Gwynne Dyer, Climate Wars: The Fight for Survival as the World Overheats. 2010.
Need to plan for potential problems:
Storm damages from flooding & wind
Increasing extent and rates of desertification
Destabilized governments
Civil strife
More refugees
Nutrition, water, and medical aid
General inofrmation

Current news about electricity and the wider renewable energy market:

Who is EarthTechling? "We were writers and technologists with a goal of bringing consumers environmentally-related news, trends, reviews, and thought in order to help build awareness and preference for products with a 'green' focus."
. . . one the leading technology blogs…designed to be simple to consume and easy to share.

GREEN JOBS, RENEWABLE ENERGY, WIND POWER, February 1, 2016
BY JEN MACCORMACK
Wind power has hit an important milestone in America, with 980 working wind installations generating 70 gigawatts of renewable electricity.
In November of 2015, American wind hit a huge milestone: fifty thousand operating wind turbines. Those turbines are spread out on almost a thousand utility-scale wind farms over 40 US states & Puerto Rico.

Greentech Media [GTM] "With authoritative news, market research and events, GTM is the leading information services provider for this next-generation electricity system."

"How Startups and Incumbents Are Collaborating to Make Hawaii 100% Renewable"
This week, the Gang talks with the leader of an energy accelerator about sustainably deploying solar, batteries and microgrids across Hawaii.
by Stephen Lacey, January 21, 2016

Footnotes
1. Oli Brown, Anne Hammill and Robert Mcleman, "Climate change as the 'new' security threat: implications for Africa," International Affairs, 83:6, 2007. pp. 1141-1154. A brief history of how "human indiced climate change moved from being an environmental into a state security matter of concern to 2006.
2. "The various branches of the U.S. Department of Defense (DoD) combine to become one of the largest consumers of energy in the world, with consumption of around 3.8 billion kWh of electricity and 120 million barrels of oil annually, totalling $20 billion spent on energy directly per year."
Read more at Mridul Chadha , "US DoD to Spend $1.8 Billion on Clean Energy by 2025,"
September 27th, 2012. Pike Research report, "Renewable Energy for Military Applications," CleanTechnica . 2012 Data.
2. "The Defense Department $7 billion investment in renewables is one example of a deepening commitment to alternative energy and conservation."
3. "Now our U.S. bases are planning to deploy substantial quantities of cutting-edge renewable power technology and for each service branch to install 1 gigwatt in the next dozen years. These pursuits are not trivial. Installation energy innovation is consistent with objectives set by defense leaders and Congress alike. It is essential to the success of the military mission—ensuring the safety and security of the American people and troops."
Senator John W. Warner, "Power Surge," Pew Charitable Trusts Report: January 2014.

4. "Why The U.S. Military Is Falling In Love With Electric Vehicles." William Pentland, Forbes Magazine. September 8, 2013 @ 08:08 PM
5. International Institute for Strategic Studies:
6. National Oceanic and Atmospheric Administration (NOAA) maps of coastal impacts from rising sea levels.

Background slide: Solar Energy Industries Association [SEIA] presentation, June 2010. Syracuse, New York.