The Speed of Glacial Melt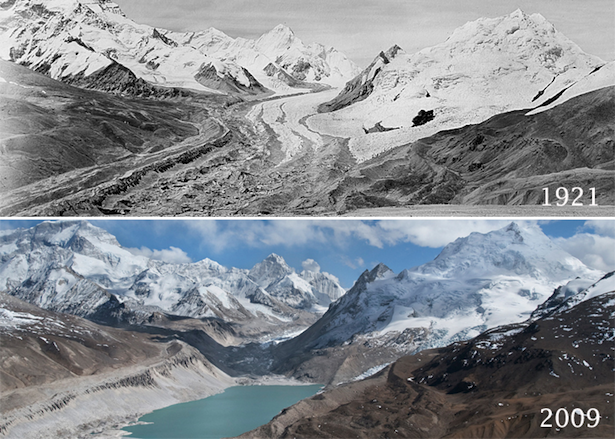 Main Rongbuk Glacier, Himalayan Mountains.
The second photograph was taken by mountaineer, David Breashears.
Undaunted by the scores who've died scaling Mt. Everest across the decades, Breashears summited there five times in three decades. He got to know the sherpas that help climbers ascend its slopes. They spoke of changes–about less snow around the mountain, and more heat.

But he didn't grasp how fast things were changing until 2007.

Trekking in Tibet that year, he took out a reproduction of the old George Mallory photograph.
"It showed the ice-encrusted north face of Everest and, below it, the great river of ice known as the Main Rongbuk Glacier, flowing in a sweeping, S-shaped curve down a broad, stony valley. Eighty-six years after Mallory took that photograph, I sat in the exact spot where he had snapped his iconic picture. Pulling out his photo, I was stunned by the changes that had swept over this region. The wide river of ice had retreated more than half a mile, leaving a field of separated ice pinnacles melting into the rocky ground. In the distance, the ice streams on Everest's flank also had shrunk, exposing more of the mountain's dark face."
Can This Photograph of a Himalayan Glacier Persuade People That Climate Change Is Happening?
"Nature is more than a bank of resources to draw on: it is the best model we have for all the design problems we face."
Sim Van der Ryn, Ecological Design. p. 7.
April 21, 2013