What is the difference among: data, information, and knowledge?
---
"Europe ... he discovered filled with 'information' he had not previously been aware of."
Pursell of the landscape scholar John B. Jackson.
---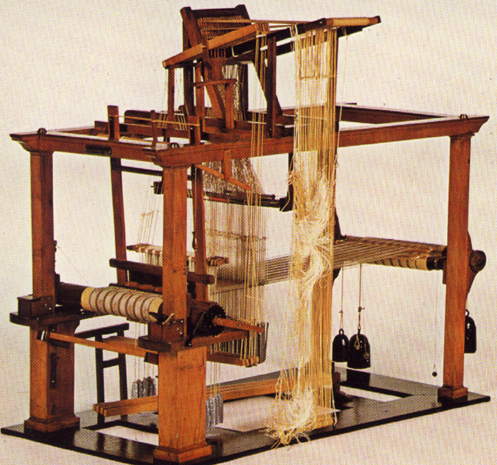 "As material manifestations of social relations, tools are concrete commitments to ceratin ways of doing things and therefore certain ways of dividing power. It is a mistake to think..."
Pursell, p. 218.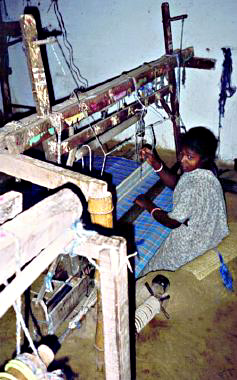 Young Indian woman in Madras, weaving at a hand loom.
Fabric produced by child labor worldwide ends up as a source of material for the fasion industry.
Cheap clothing, once produced in the US is now made overseas even more inexpensively.
---
Three aspects of textiles

1. Mechanization in the textile industry in the 1760s to the 1850s made apparel affordable to a mass market.

2. Technical applications of clock components to sociwty, power looms and the need for control devices in power looms were one source of automation: the computer punch card for example was first use to define a weaving pattern on the power loom in the 18th century.

3. Weaving provided a rich metaphor in our language based on the influence of technology:

warp and woof

Slavery and the issue of Union in the 1850s was "tearing the fabric of society" just before the civil war.
---
Technology and power

Orientalism and Modernism as Eurocentric redefinitions of power relationships over the rest of the world:
"The Other is always a cultural construction, something we have imagined to better define ourselves."
Page, 219.