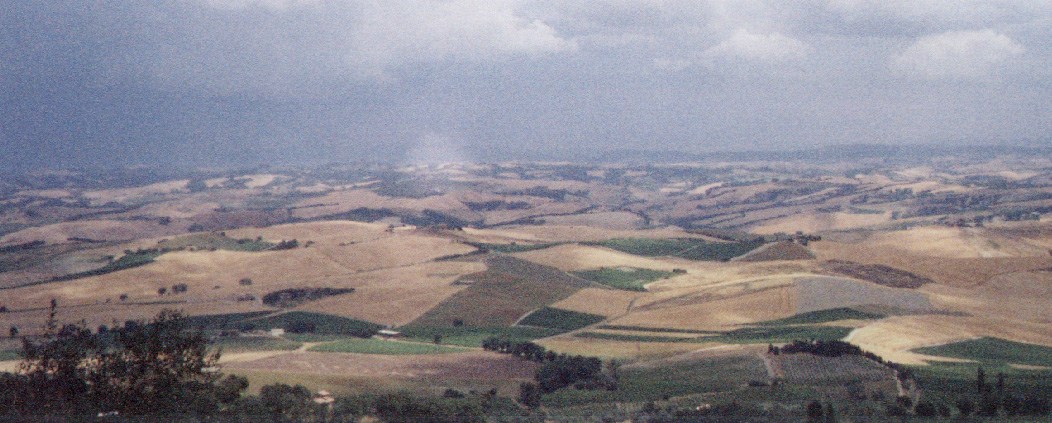 Tuscany, the landscape here has been settled and farmed since Etruscan times seven centuries, or more, before Christ.

"The twilight of the beginning of our history was the nightfall of some previous history, which will never be written."
p. 51.
"Yet this is the Tyrrhenian Sea of the Etruscans....The Etruscans sailed the seas. They are even said to have come by sea, from Lydia in Asia Minor, at some date far back in the dim mists before the eight century B.C. But that a whole people ...sailed in tiny the ships ...seems hard to imagine."
"Even before the fall of Troy, before even Athens was dreamed of, there were natives here. And they had huts on the hills, thatched huts of clumsy groups most probably; with patches of grain, and flocks of goats and probably cattle."
p. 50.
"The Etruscan civilization seems a shoot, perhaps the last from the prehistoric Mediterranean world, and the Etruscans, newcomers and aborigines alike, probably belonged to that ancient world, thought they were of different nations and levels of culture."
p. 51.
During the Spring of 1927, in April, D. H. Lawrence, English novelist and literary critic, journeyed throughout the Tuscan countryside. This was shortly after he had published Lady Chatterley's Lover, in Florence, Italy. David Herbert Lawrence was born in Eastwood, Nottinghamshire, in 1885, and died of tuberculosis in Venice during 1930.
In "Etruscan Places," he writes,"Yet everything, Etruscan, save the tomb, has been wiped out. It seems strange. One goes out again into the April sunshine, into the sunken road between the soft, grassy-mounded tombs, and as one passes one glances down the steps at the doorless doorways of tombs. It is so still and pleasant and cheerful. The place is so soothing."
p. 43.
"Volterra is the most northerly of the great Etruscan cities of the west.

"It lies back some thirty miles from the sea, on a towering great bluff of rock that gets all the winds and sees all the world, looking out down the valley of the Cecina to the sea, south over vale and high land to the tips of Elba, north to the imminent mountains of Carrara, inward over the wide hills of the Pre-Appenines, to the heart of Tuscany."
p. 139.
Etruscan Places, London: Martin Secker, 1932.

In the Forward to this volume on Etruscan Places, Aldous Huxley wrote of D. H. Lawrence (Spectator, 4/11/1932) that:
"He was a man extraordinarily sensitive to the life that is buried in every fragment of matter. He felt its quality and its intensity, as the dowser feels the quantity and the subterranean distance of water or the metal that moves his twig of hazel....For Lawrence has felt his way into the minds of the Etruscans."