Alexei Petrovich Antropov (1716-1795)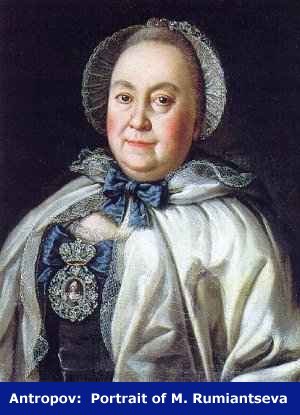 One of the most influential Russian painters of the eighteenth century, Aleksei Petrovich Antropov is best remembered for the sincerity and directness of his portraits. However, Antropov's achievements were not limited to portraits; he was also an accomplished icon painter, miniaturist, and metal worker. He is recognized for bridging the stylistic gap between the painters of the Petrine period and those of the later eighteenth century, and for ending the artistic stagnation that characterized the 1730s and 1740s.
Antropov was born in St. Petersburg in 1716 in a family of a military carpenter. Perhaps because Antropov was born into a craftsman's family, his artistic inclinations began to show early. When he was 15, he started his art schooling and in the next seven years was instructed by some of the best known Russian and foreign painters of the time, including A. Matveev, M. Zakharov, I. Vishniakov, L. Caravaque, and P. Rotari.
In 1739, Antropov became an apprentice in the Chancellery of Buildings. His instructor was Ivan Vishniakov. The early works of Antropov were still influenced by the parsuna tradition, but, learning quickly, he made the transition to Western portraiture with relative ease. In the 1740s, Antropov received a number of commissions to decorate palaces in St. Petersburg, among them the Anichkov Palace and the Summer and Winter Palaces. He also worked in Moscow. In 1752, Antropov was sent to help Rastrelli in the restoration of the church of St. Andrew the First-Called in Kiev. In four years, without helpers, Antropov completed the icons for the iconostasis and the murals. During his stay in Kiev, the artist became a mentor of Dimitrii Levitskii, who is often considered the greatest Russian painter of the eighteenth century. From Kiev, Antropov went to Moscow and in two months completed two panneaux in the Golovin's Palace, gaining a reputation of an accomplished secular painter. After his return to St. Petersburg, Antropov painted a number of successful portraits of aristocracy. In 1761, already a famous artist, Antropov was invited back to Moscow, where the future Academy of Arts was to be located. Since the Academy was not opened in Moscow, the artist was appointed the chief painter of the Holy Synod and an overseer of icon-copying works. In 1789, wishing to establish a private school of painting and a public college, he donated his house to the Office of Public Charity. Antropov was active as a teacher of painting and an artist until his death in 1795.
Aleksei Antropov's best known works include Portrait of Catherine the Great, Portrait of Peter III, and the portraits of V.A Sheremeteva, M.A Rumiantseva (see above), Anastasiia Izmailova and Vice-Chancellor A.M. Golitsyn. Characteristic of many of his works was great attention given to the detail and ornamentation of the setting and costume. In addition, Antropov combined the traditional baroque patriarchal portrait of the seventeenth and eighteenth century with that of the developing techniques of realism. His portraits were a tribute to the subject, as they genuinely portrayed the person in a simple and natural manner that let the true essence of the person come through. Without either manipulating the stature or position of the sitter or adding unnecessary and distracting psychological insights, Antropov was able to reveal his sitter's true character. [F.S.]

© Alexander Boguslawski 1998-2005
(Home)