The sound is civilization

.

"We are a puny & fickle folk."
"Across the Continent: Westward the Course of Empire Takes Its Way."
Emerson, 1841 Journal entry #s 279-280.

"I hear the whistle of the locomotive in the woods.

Wherever that music comes it has its sequel. It is the voice of the civility of the Nineteenth Century saying, 'Here I am.' I is interrogative: it is prophetic: and this Cassandra is believed: 'Whew!Whew!Whew! How is real estate here in the swamp and wilderness? Ho for Boston! Whew! Whew!

"Down with that forest on the side of the hill. I want ten thousand chestnut sleepers.* I want cedar posts and hundreds of thousands of feet of boards. Up my master's of oak & pine! You have waited long enough–a good part of a century in the wind & stupid sky. Ho for axes & saws, and away with me to Boston! Whew! Whew! I will plant a dozen houses on this pasture next moon, and a village anon; and I will sprinkle yonder square mile with white houses like the broken snow-banks. . . ."

Currier & Ives: F. (Fanny) Palmer, Date: 1868.
Ralph Waldo Emerson, 1842. Journal entry.
Marx critical argument | contents | landscape | an American machine
Selection: From Ralph Waldo Emerson, The Journals of Ralph Waldo Emerson, pp. 431 & 482 [ Emerson's entry #366 ].
Ralph Waldo Emerson. The Journals and Miscellaneous Notebooks of Ralph Waldo Emerson, 1838-1842. Cambridge: Harvard University Press. [on line @ Google Books™]
.
Commentary:
Peter S. Field. Ralph Waldo Emerson: The Making of a Democratic Intellectual. (Oxford, UK: Roman and Littlefield, 2002), p. 157.
Emerson in his Journals, ed. Joel Porte, (Cambridge, 1982). p. 297.
* sleepers, railway ties--the wooden cross beams to which the iron rails are attached at a constant distance apart.
Image Title Source: "Across the Continent: Westward the Course of Empire Takes Its Way."
Creator(s): Currier & Ives: F. (Fanny) Palmer
Date: 1868
Part Of: "Prints and Photographs Reading Room: Prints and Photographs Division" – Library of Congress.
Online Resource URL: http://www.loc.gov/pictures/resource/ppmsca.03213/
ARC Identifier: 03213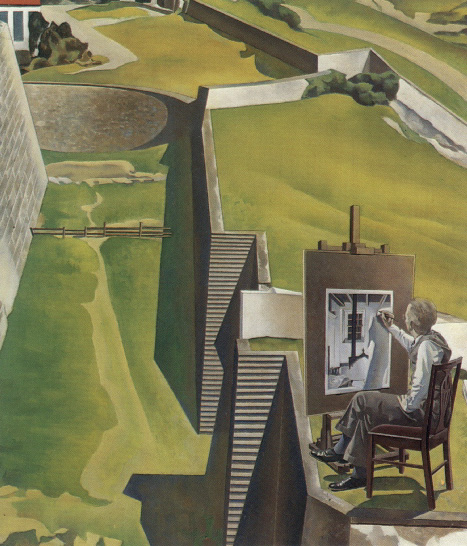 George Sheeler, The Artist Looks at Nature, 1943; "the painting's meaning is ambiguous. . . " The Art Institute of Chicago