American landscape artists

"I should like to paint in New York. American artists should not be ashamed of their country, it is magnificent. Why do so many American painters continually go abroad when they have at home scenes of such varied beauty?"

Henri Matisse, Time Magazine,

"29th Carnegie Institute International Exhibition of Modern Painting," October 20, 1930.
Search here



Loading
Cultural nationalism: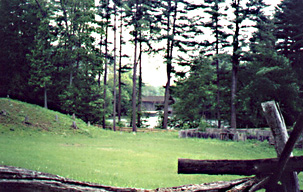 "We are so accustomed to the domesticated landscape of America that it is hard to imagine the untouched, primeval wilderness it once was."
"The verbal and visual descriptions which appeared in early nineteenth century magazines, novels, and travel books helped popularize the notion that the earth's greatest wonders awaited discovery on this vast, uncharted continent."
Dialogue with Nature, Corcoran Gallery. p. 8.
America's once wild landscapes became associated with qualities described as the picturesque and the sublime in the late eighteenth century. Artists began to use the landscape as the subject and not mere context of oil paintings in this early period even before the discovery of scenic monumentalism exemplified by the terrains throughout the far western frontier in the nineteenth century.

John Singleton Copley, 1738-1815, is an example of how portraits dominated relegating landscape features to the background, or his allegories show the surroundings.

John Trumbull, 1756-1843, architect, artist and diplomat, was builder of the first dome on the U.S. Capitol and painted the series of large historically significant paintings in the rotunda. He studied under Copley, and later was instrumental in furthering the career of Thomas Cole.

Romantic Landscape, oil on canvas painting by John Trumbull, c. 1783, Dayton Art Institute

Whereas Thomas Doughty, July 19, 1793 – July 22, 1856, was a founder of the Hudson River School and whose works begin in 1828 and 1834 with landscape paintings, earlier artists often painted portraits and historical subjects to earn a living. Such landscapes would soon become a national preoccupation with patrons supporting artists who traveled extensively and in so doing sketched, painted and took photographs depicting the varied countryside of America, the America's and classical settings in Europe and the Ottoman Empire (Egypt, Arabia, Palestine, and Asia Minor).

America's landscape heritage, by J. Siry

chronology of important events | changes in scale | imagery | scenery

Transition from a colonial to a national style

Cornplanter, HAUDENOSAUNEE leader, an example of Colonial portraiture; "Chief Cornplanter," portrait by Frederick Bartoli, 1796.
Washington Allston, 1779-1843.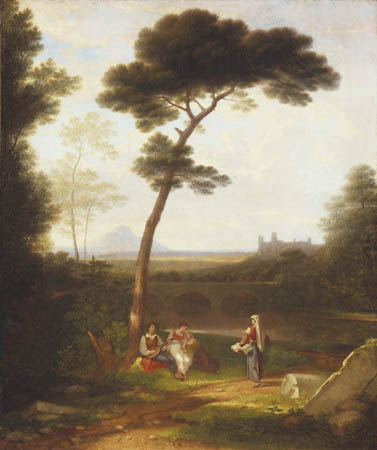 Italian landscape, 1828.
An example of the picturesque as a focus in painting.
Rising of a Thunderstorm at Sea (1804)

Landscape, American Scenery: Time, Afternoon, with a Southwest Haze (1835)
both at the Museum of Fine Arts in Boston.

Asher B. Durand, 1796-1886.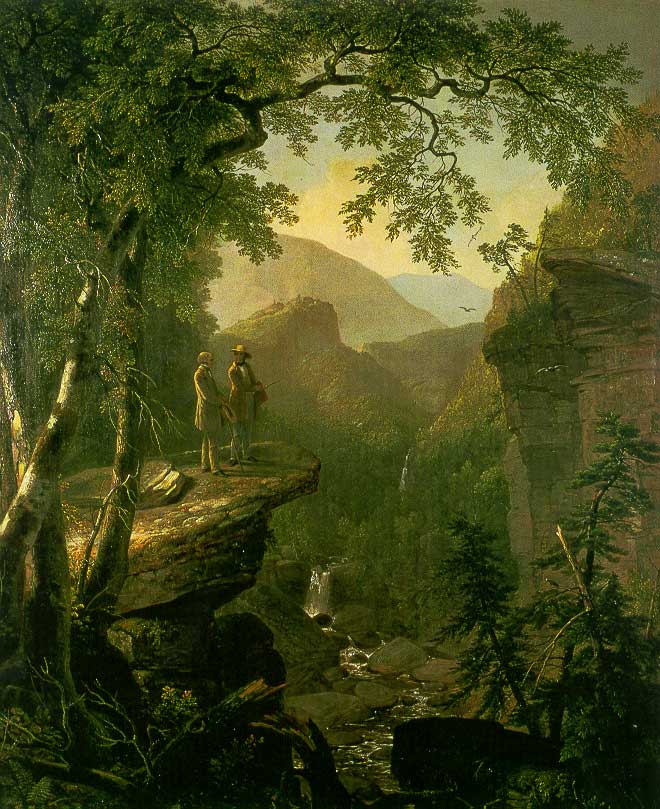 Kindred Spirits
1849
Oil on canvas
46 x 36 in (116.8 x 91.4 cm)
The New York Public Library, New York City
Thomas Cole and William Cullen Bryant communing with wild nature, a definitive moment in our national past was portrayed by Asher B. Durand a year after Cole's untimely death.
Thomas Cole, 1801-1848.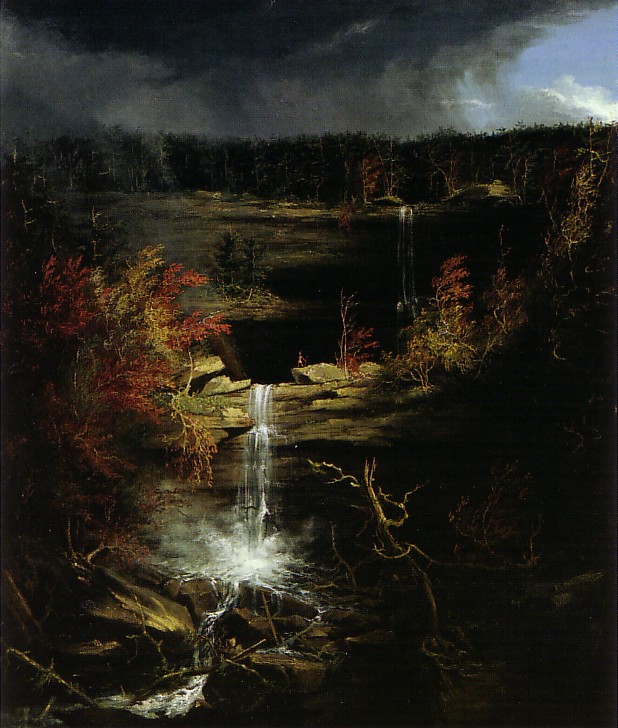 Kaaterskill Falls, 1826, Hudson Valley, New York.
Another painting by Cole, after his return from the Mountains, was "The Falls of the Cauterskill," the last word being here written as it is commonly pronounced, though the proper original spelling of the word is Kaaterskill, meaning the kill, or stream, of the Kaater, or male wildcat, or lynx, an animal which is still often met with in this region.
This picture of the Falls was purchased by Colonel Trumbull, the celebrated historical painter, and two others by Dunlap and Durand, celebrated artists, to whom Thomas Cole was thus introduced, and thus, by the aid of these three distinguished friends, the attention and patronage of the public, far and wide, was secured by Cole, though at that time but twenty-four years of age. Trumbull then said to him : "You surprise me, at your age, to paint like this. You have already done what I, with all my years and experience, am yet unable to do."
There is no one whose name, either as author or artist, is more prominent, in connection with There Catskill Mountains and the country around, than Thomas Cole, N. A., who has left behind him, as enduring memorials of his fame, "The Course of Empire," "The Voyage of Life," and other paintings of high artistic merit and fame. Mr. Cole was a native of England, but came to this country, with his father's family, when nineteen years of age. After enduring the privations of poverty for years, as an engraver, a traveling portrait painter, and in other callings and pursuits in life, he, at length, by the force of his talents, genius, industry, perseverance, and patient and enduring toil and study, became one of the most eminent and successful landscape painters in the world. To his warm personal friend, pastor, and biographer, Rev. Louis L. Noble, formerly of Catskill, we are indebted for a full, able, and interesting record of the life, labors, personal character, and success in his profession, of Mr. Cole.

As Cole early visited the Catskill Mountains, and afterwards, for many years, on to the end of life, had his family residence and studio near the village of Catskill, in full view of all the higher summits of the range, he had, from the first, a peculiar interest in them, and an ardent and enthusiastic attachment to them. Of his first excursion up the Hudson River, his biographer thus writes:

" From the moment when his eye first caught the rural beauties clustering round the cliffs of Weehawken, and glanced up the distance of the Palisades, Cole's heart had been wandering in the Highlands, and nestling in the bosom of the Catskills. It is needless to say that he followed its impulses, at his earliest liberty, in the Autumn ensuing."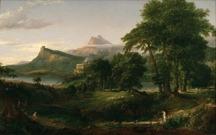 "Essay on American Scenery," was written by Thomas Cole in 1836.
A copy is available to read at the California State University at Northridge internet site– https://www.csun.edu/~ta3584/Cole.htm

William Sydney Mount, 1807-1868.
Eel fishing in Setaucket, Long Island.
(American artist; b. Setauket, N.Y., 1807–d. Setauket, N.Y., 1868)
Martin Johnson Heade, 1819-1904.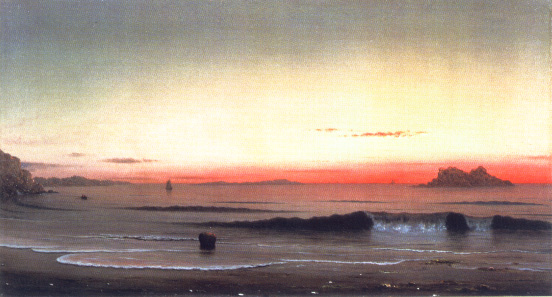 Singing Beach, 1863, New Hampshire.
George Inness, 1825-1894.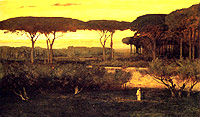 The Monk, 1873; Oil on canvas, Addison Gallery of American Art, Phillips Academy, Andover, Mass.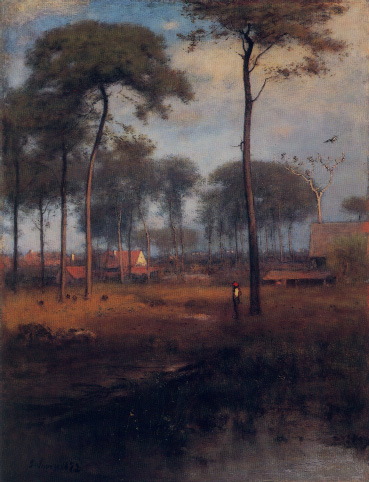 Early Morning Tarpon Springs, Florida 1892. Oil on canvas, Art Institute of Chicago, Illinois.

Frederick Edwin Church, 1826-1900.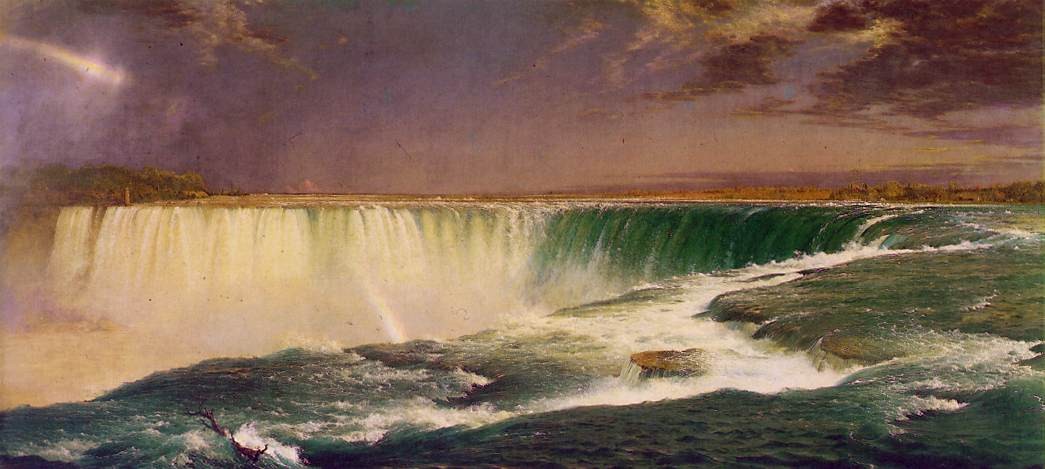 Niagara, 1857, New York - Canada border. Oil on Canvas, Corcoran Gallery of Art, Washington, D.C.
(American; b. Hartford, Conn., 1826­–d. New York City, 1900)
Perhaps the most famous painter of his times, Church traveled the country, South AMerica, the West Indies, and the Mediterranean to bring landscapes to life in exquisite and careful detail.

Albert Bierstadt, 1830-1902.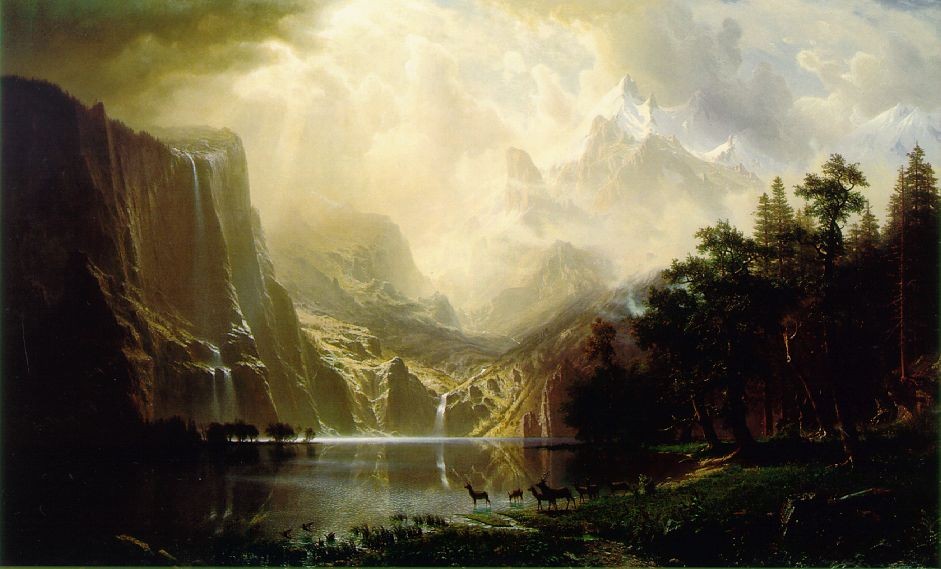 In the Sierra Nevada, 1875-77, California.

Winslow Homer, 1836-1910.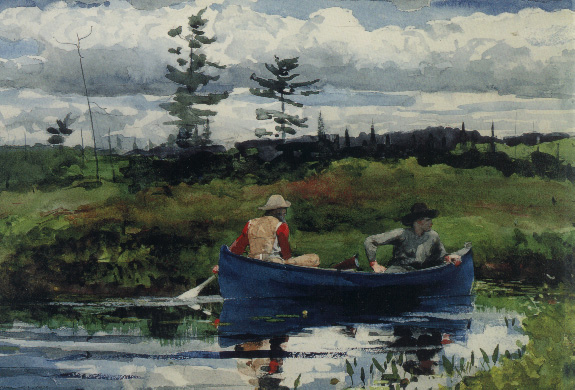 Blueboat, 1892, The Adirondack Mountains, New York.

William Merritt Chase, 1849-1916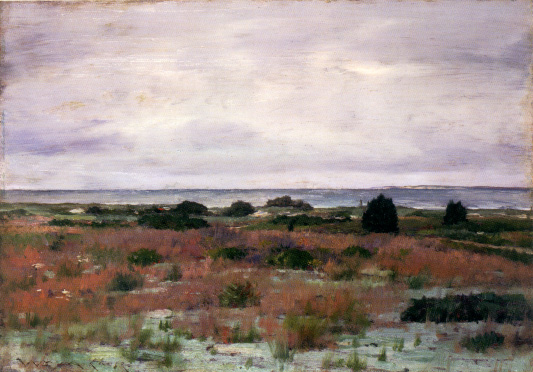 Shinnecock Hills, Long Island 1895

Childe Hassam, 1859 –1935.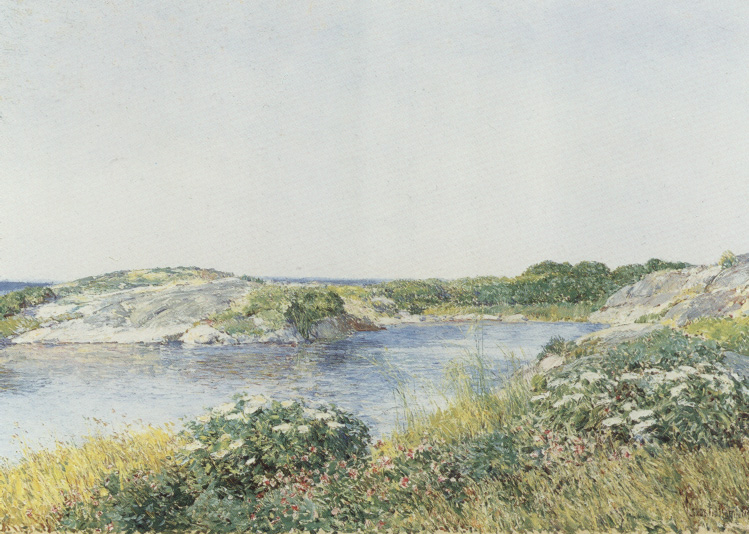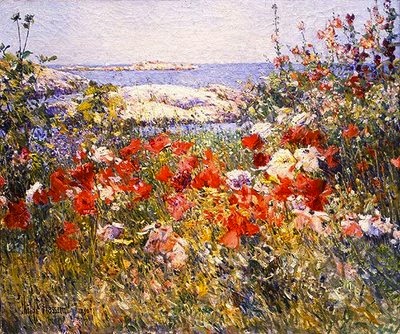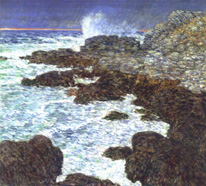 The Arid Regions
Georgia O'Keeffe, 1887–1986.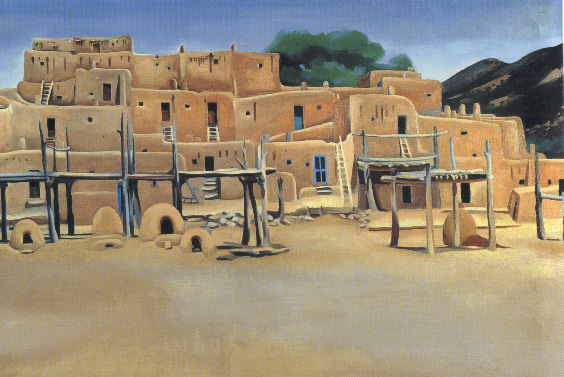 Taos Pueblo, 1934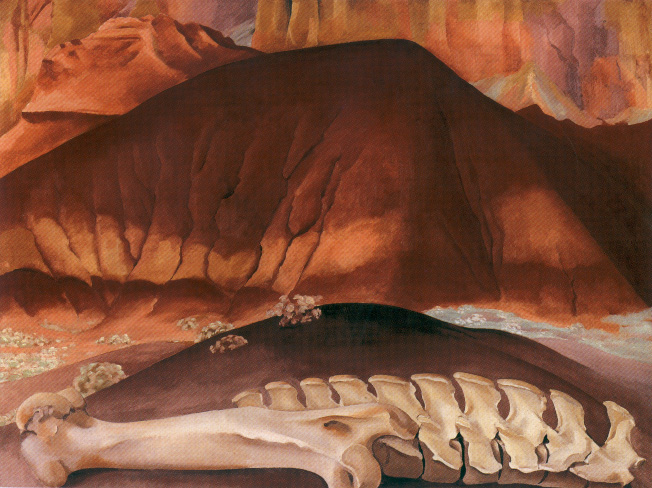 Alfred Stieglitz, 1864-1946.
Old and New Manhattan, 1900 -1893

Modernism

Charles Sheeler, 1883-1965.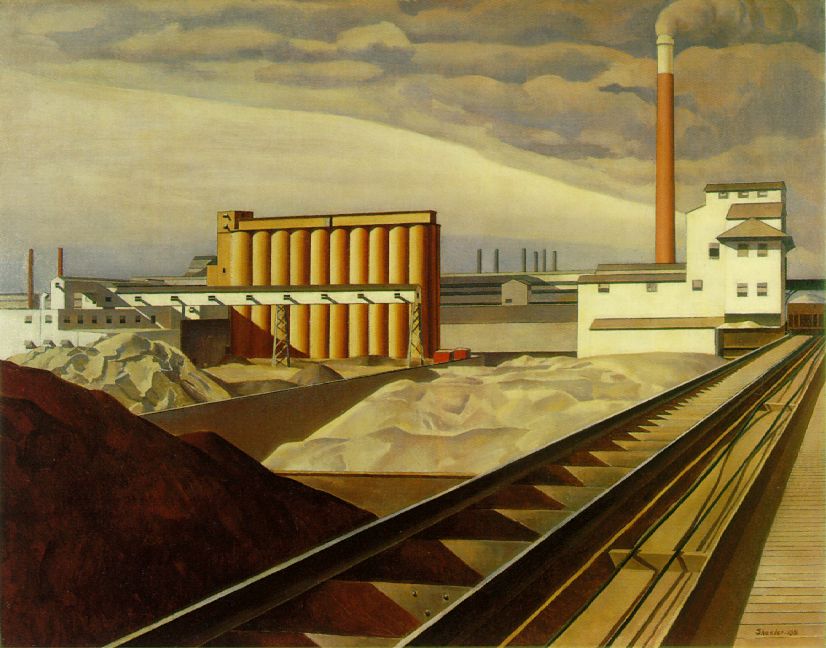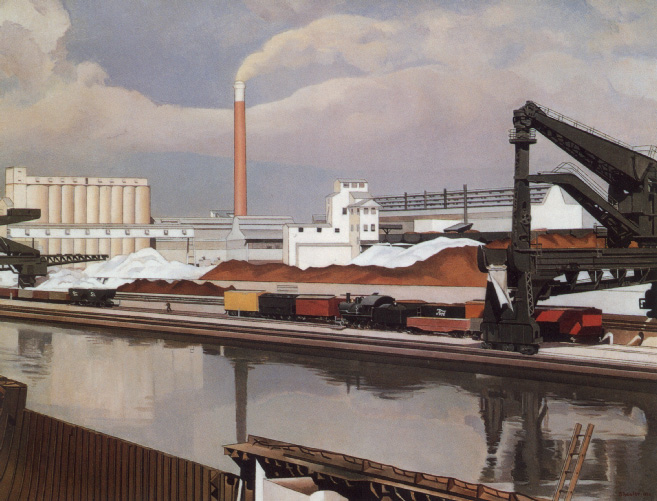 American (Industrial) landscape, 1930

American Landscape
1930
Oil on canvas
24 x 31 in. (61 x 78.8 cm)
The Museum of Modern Art, New York

"The ungainly name "Precisionism" was coined by the painter-photographer Charles Sheeler, mainly to denote what he himself did. It indicated both style and subject. In fact, the subject was the style: exact, hard, flat, big, industrial, and full of exchanges with photography. Photography fed into painting and vice versa. No expressive strokes of paint. Anything live or organic, like trees or people, was kept out. There was no such thing as a Precisionist pussycat. Sheeler's work records the displacement of the Natural Sublime by the Industrial Sublime, but his real subject was the Managerial Sublime, a thoroughly American notion. And though Precisionism broadened into an American movement in the late twenties and early thirties, Sheeler's work defined its essential scope and meaning.

"The son of a steamer-line executive in Philadelphia, Sheeler took his first art classes under William Merritt Chase at the Pennsylvania Academy in 1903 and, in the now familiar pattern of other American modernists-to-be. Made a movie with Paul Strand in 1920s about the city and used Whitman poetry to portray a place, ironically as absent of people as Whitman's poetry is filled with people.

Edward Hopper, 1882-1967.

Road in Maine
1914
Oil on canvas
24 x 29 inches
Whitney Museum of American Art, New York

Corn Hill (Truro, Cape Cod)
1930
Oil on canvas
28 1/2 x 42 1/2 in. (72.4 x 108 cm)
The Mary and Sylvan Lang Collection: McNay Art Museum, San Antonio, TX

"Edward Hopper, the best-known American realist of the inter-war period, once said: 'The man's the work. Something doesn't come out of nothing.' This offers a clue to interpreting the work of an artist who was not only intensely private, but who made solitude and introspection important themes in his painting.

"He was born in the small Hudson River town of Nyack, New York State, on 22 July 1882. His family were solidly middle-class: his father owned a dry goods store where the young Hopper sometimes worked after school. By 1899 he had already decided to become an artist, but his parents persuaded him to begin by studying commercial illustration because this seemed to offer a more secure future. He first attended the New York School of Illustrating (more obscure than its title suggests), then in 1900 transferred to the New York School of Art. Here the leading figure and chief instructor was William Merritt Chase.
Hudson River Valley

Hudson valley looking south from Albany, New York.
The arts in the form or paintings and photography have left a documentary record of the look, scale, and features of places before the more recent alterations of landscape altered the appearance of the countryside. The arts are something like soils, tree rings and shells in that al of these artifacts reveal to us the changes in the land from the geological past, through layers of change, into the present.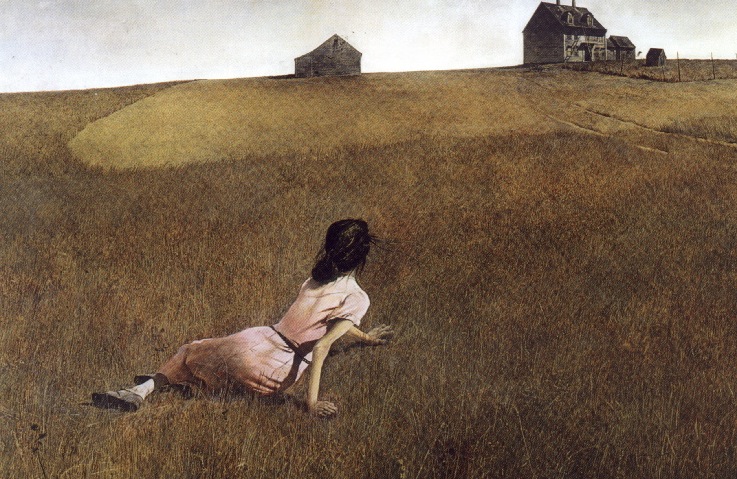 "The woman crawling through the tawny grass was the artist's neighbor in Maine, who, crippled by polio, 'was limited physically but by no means spiritually.' Wyeth further explained, 'The challenge to me was to do justice to her extraordinary conquest of a life which most people would consider hopeless.' He recorded the arid landscape, rural house, and shacks with great detail, painting minute blades of grass, individual strands of hair, and nuances of light and shadow. In this style of painting, known as magic realism, everyday scenes are imbued with poetic mystery."

For more on American landscape artists, see–
"Essay on American Scenery," was written by Thomas Cole in 1836.
A copy is available to read at the California State University at Northridge internet site– https://www.csun.edu/~ta3584/Cole.htm
http://www.deyave.com/Arte/Pintura/HISTORY-OF-AMERICAN-ART/LANDSCAPE-PAINTERS-1.html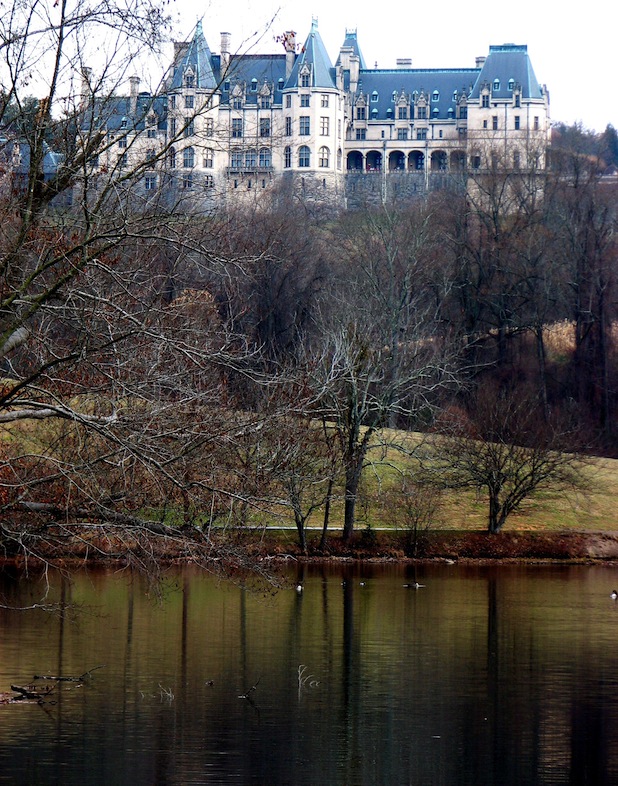 George Vanderbilt's Biltmore Estate, the 8000 acre grounds redesigned by Frederick Law Olmsted Sr. & Gifford Pinchot.

America's frontier landscape heritage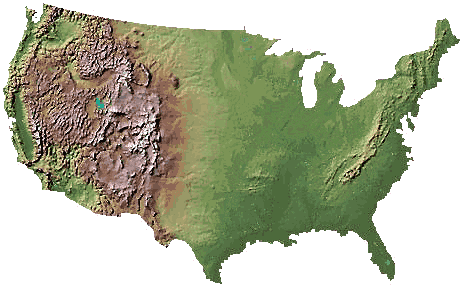 artists | chronology of important events | changes in scale | imagery | scenery