All things India
Indian faculty protest: History Department criticizes curriculum at Delhi University
June 7, 2013
Delhi University History Department have said in an Open Letter on Four Year Undergraduate Programme [FYUP].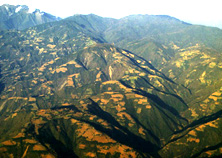 ---

"All over, peasants have been forced to burn dung in their hearths for  want of fuel wood, while there is insufficient manure in the fields. Groundwater levels are rapidly going down as commercial farmers sink deeper and deeper bore wells."
---
"The ecological history of British India is of special interest in view of the intimate connection that recent research has established between western imperialism and environmental degradation. World ecology has been profoundly altered by western capitalism, in whose dynamic expansion other ecosystems were disrupted, first through trade and later by colonialism."

Gadgil & Guha, p. 116.

"The implications of the uses and misuses of India's biological resource are only dimly perceived by the rich and powerful.  But we, in common with a majority of Indians who face the burden of this misuse  in their daily lives, believe them to be of tremendous significance. . ."

"The nutrient cycle in tropical forests is quite distinctive, too, with the bulk of nutrients being held in the standing biomass, rather than in the soil. These facts imply that ecosystem and community-level interactions–for instance soil-plant relationships and inter-species interactions–are of far greater significance in tropical forest dynamics."

". . .colonial foresters were under considerable pressure to immediately change the the species composition of the forest in favour of commercially valued trees. Yet increasing commercially valued species was itself a 'most difficult problem (Ribbentrop 1900, p.163). it was therefore hardly surprising that existing attempts at inducing reproduction were often unsuccessful–. . . ."

"In other words, the proper enumeration of growing stock–an essential prerequisite for sustained-yield prescriptions–was out of the question."
---

Madhav Gadgil, Ramachandra Guha, This Fissured Land: An Ecological History of India, Berkeley: University of California Press, 1992
Rollins wiki; information page on India
Indian Press:
India, Pakistan,Afghanistan, Tibet, Nepal, & Bangladesh from satellite