Total fertility rate (TFR) compares figures for the average number of children that would be born per woman if all women lived to the end of their childbearing years and bore children according to a given fertility rate at each age. TFR is a more direct measure of the level of fertility than the crude birth rate, since it refers to births per woman.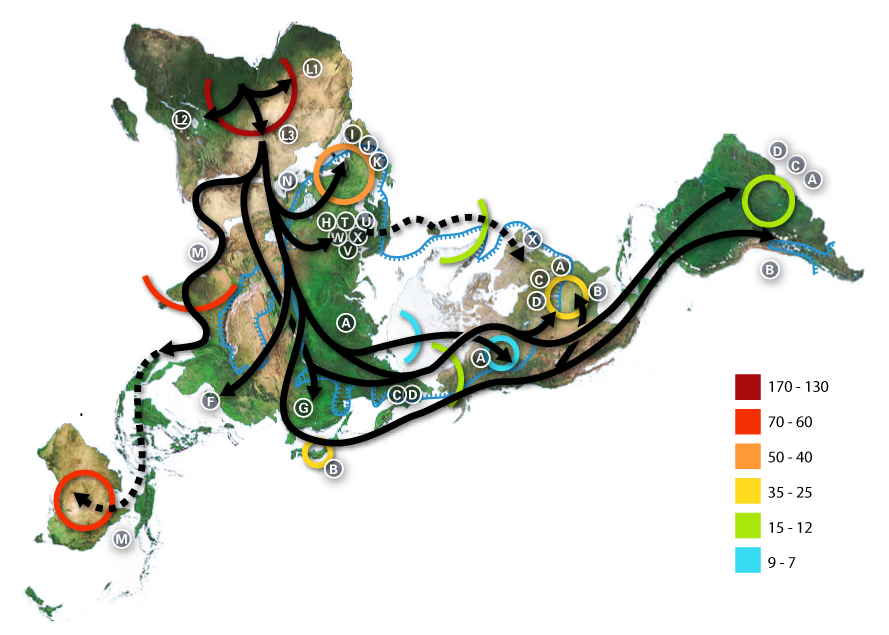 Migration pattern of human families between 170,000 and 7,000 years before the present.
The number of children in a completed family; that is, after a woman has completed her childbearing years.
Darfur mother and new born; French mother and child portraits from the 19th century.
The number of children born to women during their reproductive years is referred to as the total fertility rate [TFR].
Selected TFR for nations:
CATEGORY
TFR
Rank of Places
Highest

7.6

6.9

1 Niger

2 Mali

Higher

6.14

6.08

6.0

5.97

3 Burundi

4 Somalia

5 Nigeria

6 Uganda

MEDIUM

2.87

2.86

2.86

2.86

2.83

2.80

2.79

62 Egypt

63 Pakistan

64 Oman

65 Honduras

66 West Bank

67 Bolivia

68 Haiti

Lowest

1.29

1.26

1.25

1.25

1.17

1.11

217 Lithuania

218 Bosnia and Herzegovina

219 British Virgin Islands

220 Korea, South

221 Hong Kong

222 Taiwan

Average World
2.45
See Kaiser Health News
Reproductive years are usually taken to be (as an average) from 15 to 49 years of age.
Total fertility rate reflects the number of children in a completed family, or family size.

A dramatic decline in fertility rates during the 20th century coincided with decreased child mortality, access to family planning, economic development, increasing access to schools for young women, literacy, and urbanization.

Other factors—including stiffer competition for jobs, housing shortages, educational and occupational opportunities for women, and government efforts to lower birth rates—also encouraged fertility decline.

Fertility rates have fallen in every major world region, but in some regions, the rate remains quite high. Worldwide, the average number of children per woman fell from 5.0 around 1950 to 2.7 in 2007. Sub-Saharan Africa has the highest average at 5.5, falling from a level of 6.7 around 1950.

Alabama farm family, 1930s: James Agee & Walker Evans.

Couples were able to reduce family size by adopting methods of family planning. Worldwide, use of contraception rose from less than 10 percent of married women of childbearing age in the 1960s to 62 percent in 2007. Again, regional variations provide stark contrasts. In Africa, 28 percent of married women use contraception; in Latin America, the share is 71 percent; North America, 73 percent; Europe, 67 percent; and Asia, 66 percent.
---