The Fallacy of Nature versus Nurture
"What we call Man's power over Nature turns out to be a power exercised by some men over other men with Nature as its instrument."

C. S. Lewis, The Abolition of Man.
This fallacy lies in its power to distort our comprehension and undermine our means of adequately understanding natural (inheritance through genes) and environmental (conditions created through ecological factors) influences on the spread of a particular population with certain traits and behaviors that diverge from other populations.
"human beings with different genetic endowments (genotype)" affecting "variation in our red blood cells."
The Dominant Animal, p. 24.
An outcome can be positive (+), negative (–), or neutral (ø).
Sources

adaptive

not adaptive

(

maladaptive

)
Outcome
gene

red blood cell shape

"

sickle cell

"

+

environment

"…Changing farming practices that affect mosquito abundance."

pp. 24, 106.

malarial parasite

" – "

gene

sickle shaped erythrocyte, blood cell

inhibits the parasite!

Condition
malaria spreads
malarial resistant
"–" becomes "+"
environment

plentiful water and fruit

desert, drought, scarce resources

?
Chapter Four: of Genes and Culture–the necessary union
If genes only assured the transfer of one trait, the description above would suggest there are situations where an otherwise maladaptive inheritance can have rewarding–if not beneficial–consequences.
Genes however are quite complicated and add to the complexity of the above matrix of possible outcomes.
"The sickling situation (sickle cell shape of the red blood cell) illuminates the difficulty natural selection has too in influencing just one thing; resistance to Plasmodium falciparum malaria came at the price of death in some individuals and potential sickness in others."
24.
"That suggests, among other things, just how unlikely it is that many human behavioral traits claimed to be the direct result of natural selection actually are."
24-25.
"Even if it is difficult for selection to do only one thing, this does not mean that human beings are now beyond the reach of natural selection."
25.
"The sickle-cell situation...is an example of how genetic and cultural evolution can interact."
p. 87.
"For instance, flooded rice cultivation provides breeding places for malarial mosquitoes and should help determine where the sickle cell gene is in high frequency. If a culture dispensed with domestic animals...that provide preferred blood sources for mosquitoes, that too should have an effect."
p. 87-88.
"All are factors in determining people's exposure to malaria and this, over generations, could help determine the proportion of sickling and non-sickling hemoglobin genes they possess."
p. 88.
Inherited and learned behavior together create opportunities for success which is how the nature versus nurture debate is misleading as to the factors that influence biological evolution.
T

erms

Nature

Nurture

Genetics is nature

genotype

phenotype

Environment is nurture

habits

habitats

Conditions of existence are both

inherited and

acquired
"Biological evolution has produced obvious visible differences (phenotypic) among human populations, related to such things as sunlight exposure, temperature regulation, and disease resistance (remember genes for sickle cell anemia and the presence of malaria)."
p. 137.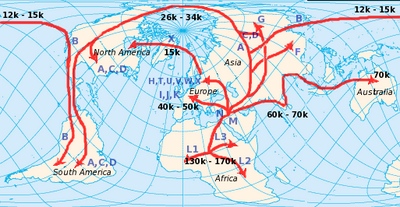 Approximate arrival dates among human migratory populations based on genotypes.