Instructions
"The past is not dead. It's not even past."
William Faulkner, Requiem for a Nun. 1951. A.
A theme | A thesis statement | The differences

ABCs –  Always Be Curious
"reading literature in general, and novels in particular, helps us to practice not being too sure of ourselves and to get out of the prison house of self."
Gary Saul Morson,
Can Reading Literature Make Us Moral? October 11, 2016 • Big Questions OnLine, behavior, morality, philosophy.
To learn more about the argument follow these links:
The past is always with us.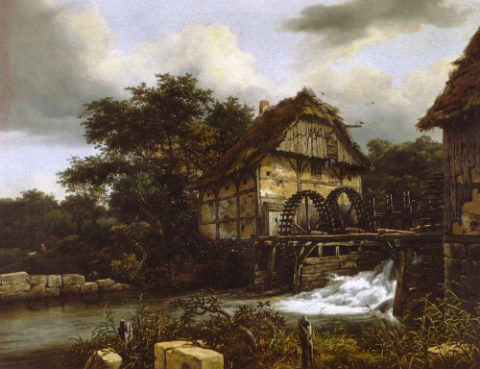 "Two Watermills and an Open Sluice," 1653, Jacob Isaackszoon van Ruisdael. Oil on Canvas. 5.
"van Ruisdael (1628-1689) was the pre-eminent Dutch Golden Age landscape painter. He was prolific, over 800 oil paintings, drawings and etchings bear his name, and versatile. No other old master matches the variety of landscape subjects he depicted. His mastery of foliage is rated as second to none." This painting is one of several studies of this articular mill-race.

Method
Compare and contrast these authors.
The poetry can be contrasted with the prose of this essay to reveal the scope and content of literature that calls our attention to nature as a subject, a participant, and an integral part of our lives. The essay may be contrasted with the writings of Washington Irving.
Analysis of the essay's content or substance.
"For a long time, the focus of literary studies was on the world of words," Lawrence Buell, a professor of English at Harvard University.
From new critics in the 1950s, who thought that texts could be analyzed on their own terms, without reference to the context in which they were produced, to recent theorists who have argued that language never accurately reflects reality,
"there's been a gap between texts and facts,"
L. Buell.

Where were we?
Trees as texts.
Clarify: What is the scope & content?
Trees as facts.
Minc'd Pyes do not grow upon every tree, 
But search the Ovens for them, and there they be. 

["Poor Robin," Almanack, 1669]

Readings for the week

August 31 What is Environmental Literature?
Environmental studies began in the life sciences and then broadened out to the humanities,. . . but the two parts of the field still interact very little.
"As a literary scholar, it embarrasses me to listen to colleagues who see science as just a bunch of cultural stories or who talk about nature writing without knowing very much about nature,"
"It's time to heal the breach between the hard sciences and the humanities –– and literary theory isn't going to do it."
Glen A. Love, professor of English at the University of Oregon.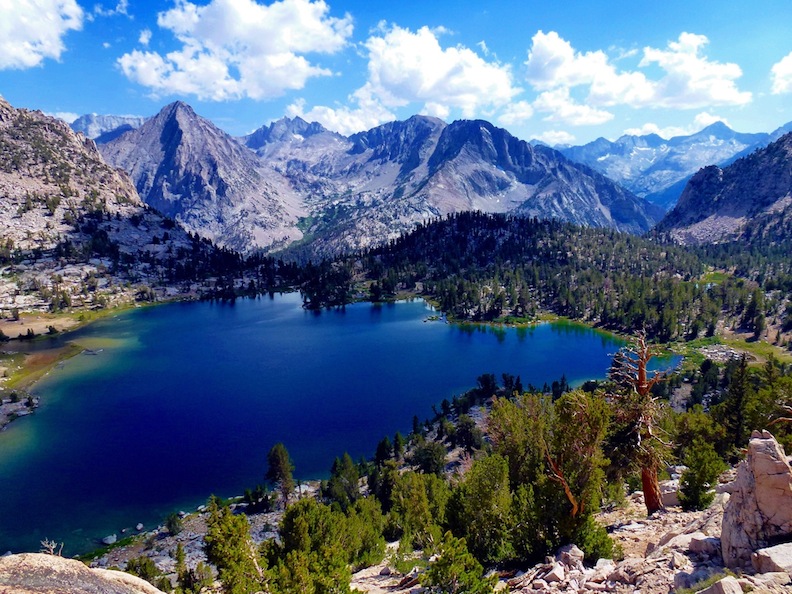 What is a hollow? A "lowland, valley, basin," originally from the 1550s, probably a modern formation from hollow (adj.), which is from Old English holh (n.) meaning a "cave, den; internal cavity." 1
"It's a big debate, but I suspect that a lot of people – like myself – are eclectics,"
"I sympathize with the view that a stone is a stone, and no amount of literary theory can change that. But I've also learned from contemporary theory that we have to watch it when we move from stone to text. No text can exactly mirror the non-human world."
"That's absurd. The land is not a woman. But from ancient times, writers have used feminine images to justify conquering it, . . . Academic analysis sometimes jars on environmental activism."
Ms.

Westling

.
How is the structure of the article like a tree?
make a list
ecology as an approach
seven branches of possible answers
Green cultural studies \ Compoststructuralists / Gendered

September 2 Washington Irving's, Sleepy Hollow .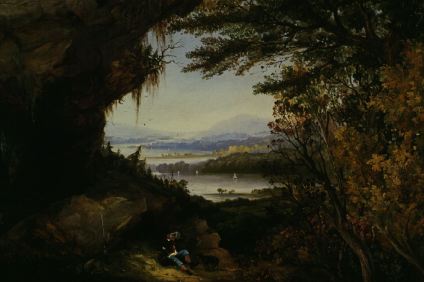 ". . . for it is in such little retired Dutch valleys, found here and there embosomed in the great State of New York, that population, and customs and manners remain fixed, while the great torrent of migration and improvement, which is making such incessant changes in other parts of this restless country, sweeps by them unobserved."
Identify
Baltus Van Tassel – " a perfect picture of a thriving, contented, liberal-hearted farmer. . .
Katrina Van Tassel – "
Ichabod Crane – "
Tappan Zee – "
Hessians – "
Brom (Arbraham) Van Brunt: "Brom Bones" – "
Have we left out someone important to the story? an answer. . .

September 4 } √ read and correctly interpret your favorite passage from Irving to the class.
A. Summarize the significant elements in the story and decide what is the key to understanding the legend?

B. In two hundred words or more determine if this story is an example of environmental literature by using the above suggestions or other keys you think make this a story about nature.

C. How do we know what this writing is about?

internal evidence:

external evidence

class discussion
September 9
• William Cullen Bryant, Thanatopsis ; What are themes?
This week read the poem and select passages to critically interpret. For example:
How well does Bryant define nature?

In what specific passages do we see his relation to the world?
Be prepared to read passages aloud at our next meeting and critically interpret them.C

Specific passages from Irving to consider:
– Ichabod Crane: "he rolled his great green eyes over the fat meadow lands, the rich fields of wheat, of rye, of buckwheat, and Indian corn, and the orchards burdened with ruddy fruit, which surrounded the warm tenement of Van Tassel, his heart yearned after the damsel who was to inherit these domains, . . . "
– Vernacular Peculiarities: "But all these were nothing to the tales of ghosts and apparitions that succeeded. The neighborhood is rich in legendary treasures of the kind. Local tales and superstitions thrive best in these sheltered, long-settled retreats; but are trampled under foot by the shifting throng that forms the population of most of our country places. Besides, there is no encouragement for ghosts in most of our villages, for they have scarcely had time to finish their first nap and turn themselves in their graves, before their surviving friends have travelled away from the neighborhood; so that when they turn out at night to walk their rounds, they have no acquaintance left to call upon. This is perhaps the reason why we so seldom hear of ghosts except in our long-established Dutch communities.
– He would delight them equally by his anecdotes of witchcraft, and of the direful omens and portentous sights and sounds in the air, which prevailed in the earlier times of Connecticut; and would frighten them woefully with speculations upon comets and shooting stars; and with the alarming fact that the world did absolutely turn round, and that they were half the time topsy-turvy!
. . .
Some mention was made also of the woman in white, that haunted the dark glen at Raven Rock, and was often heard to shriek on winter nights before a storm, having perished there in the snow. The chief part of the stories, however, turned upon the favorite spectre of Sleepy Hollow, the Headless Horseman, who had been heard several times of late, patrolling the country; and, it was said, tethered his horse nightly among the graves in the churchyard.

The sequestered situation of this church seems always to have made it a favorite haunt of troubled spirits. It stands on a knoll, surrounded by locust-trees and lofty elms, from among which its decent, whitewashed walls shine modestly forth, like Christian purity beaming through the shades of retirement.
– Brom – "he knew more about the matter than he chose to tell."
˚ • "This rantipole hero had for some time singled out the blooming Katrina for the object of his uncouth gallantries," –– rantipole?
√ Skeptical note – "Faith, sir," replied the story-teller, "as to that matter, I don't believe one-half of it myself." D. K.
– It is true, an old farmer, who had been down to New York on a visit several years after, and from whom this account of the ghostly adventure was received, brought home the intelligence that Ichabod Crane was still alive; that he had left the neighborhood partly through fear of the goblin and Hans Van Ripper, and partly in mortification at having been suddenly dismissed by the heiress; that he had changed his quarters to a distant part of the country; had kept school and studied law at the same time; had been admitted to the bar; turned politician; electioneered; written for the newspapers; and finally had been made a justice of the Ten Pound Court.
Take Away
How is this subject of nature handled ?

Thesis: as a setting or backdrop?
Antithesis: as a participant? or
Synthesis –– as an integral part of our lives?

The ABCs extended

Argument

Because

Conclusive

Definitive

Evidence

Literature provides a "window of opportunity" from which to view the past.

Could there be a reason for the fear, not at all mentioned in this story of rivalry, legendary soldiers, and boisterous rubes? See Smithsonian Magazine for quite a twist! B

Meaning:
eclectics: meaning those people who derive their findings not from one philosophy, or body of knowledge but from several divergent sources. From eclectic – diverse and varied in one's beliefs.
RANTIPOLE. : a wild reckless sometimes quarrelsome person.
A theme | A thesis statement | The differences


Sources
1 Etymology on line Dictionary: EOLD: "hollow"
2 Winkler, Karen J. Scholars study literature, (1999).
3 Irving, Washington. The Legend of Sleepy Hollow, (1819).
4 Marx, Leo. The Machine in the Garden, (1948).
5 Jacob van Ruisdael. This is a oil on canvas, is also named "Two Watermills and an Open Sluice," 1653 By Jacob van Ruisdael 1628\29-1682)."
A Note. The Faulkner book Requiem for a Nun was made into a French play in 1956 by Albert Camus who was befriended by Faulkner. Camus thought William Faulkner to be the greatest living American Writer. Camus, having died in a tragic automobile accident in 1960 was eulogized by Faulkner,who said Camus carried and expressed "that one same foreknowledge and hatred of death." (Do see: A William Faulkner Encyclopedia.)
The story's narrator, a Dutch historian named Diedrich Knickerbocker, describes the "sequestered glen" of Sleepy Hollow as a place with "contagion in the very air… it breathed forth an atmosphere of dreams and fancies infecting all the land." Natives and newcomers alike were susceptible to this airborne infection, which caused them "to walk in a continual reverie." Their somnambulance is "unconsciously imbibed by anyone who resides there for a time…however wide awake they may have been before they entered that sleepy region[.]"

Read more @ Smithsonian Magazine
Critical reading means to restate the phrase you read in your own words; then make an analogy, or explain with further related examples.
One connection to make is to tie a reading to answer the question: "What is environmental literature?"
Poetry has meter or cadence and lyricism or rhyme; how does Bryant use these facets of poetic language?
Suggestions to critically interpret a poem.
With regard to non-fictional texts see this page.

A theme | A thesis statement | The differences