Luminist Art
Artists
The movement called luminism in the art of water colors and oil paintings was designated only by art dealers in the 20th century. These aficionados and experts saw the luminist movement as an outgrowth of the Hudson River School.
You could argue that these artists took their cue from the use of light illuminating Rembrandt's and Vermeer's paintings. But an official art history describing luminism in the works of these practitioners from the landscape art of the nineteenth century is that "The style emerged in North America between 1850 and 1875. The first key Luminist work was the watercolor series, 'Atmospheric Landscapes of North America,' 2 by George Harvey (1800-78) executed in the 1830s." 
The interpreter goes on to explain the connection between the newly emergent technology of photography and the older traditions of water colors and oil painting.
"As part of a focus on photography, the American Luminists –who were linked to the Hudson River School– found new ways of depicting light in their paintings. European landscape artists, such as the German early Romantic painter, Caspar David Friedrich, and the Dutch Baroque master, Jacob van Ruisdael (1628-1682), also influenced Luminism." 
American examples of landscape art whose practitioners are part of this movement called luminism. Here below you can contrast the works of luminists such as Church and Heade with those artists who use color to infuse light in their paintings such as the impressionism of Durand and Inness.
Durand | Church | Heade | Inness

Asher Brown Durand, 1796-1886, Maplewood, New Jersey.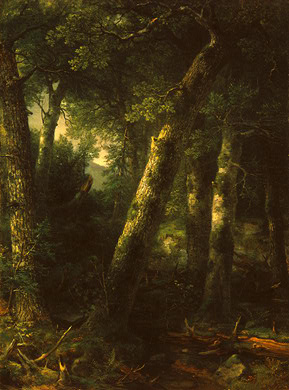 He viewed Nature as the inexplicable expression of the mind and will of God. The apprentice to an engraver Durand was a founder of "the New-York Drawing Association, soon to be called the National Academy of Design," in 1825, together with William Sydney Mount and Thomas Cole.
A patron of Durand and Mount was the "liberal New York dry-goods merchant Luman Reed, who by 1835 had persuaded Durand to abandon engraving." He supported Durand's painting.
From "April 1840 to June 1841," Durand was accompanied to Europe by the young painter John Frederic Kensett. There, Durand in viewing a John Constable painting he felt the painter revealed "more of simple truth and naturalness than any English landscape I have ever before met with." Durand studied with, befriended and eventually broke with Thomas Cole after Cole's death on largely his aesthetic outlook. There is an irony in this personal breech as Durand's most acclaimed painting is Kindred Spirits (1849) of Thomas Cole beside William Cullen Bryant looking out over a gorge of sequential waterfalls in the Catskill Mountains wilderness. In the painting Durand captured the likenesses and importance of these two figures who were the two men that so widely and enduringly influenced the creation of an American landscape aesthetic.

Frederic Edwin Church, 1826-1900.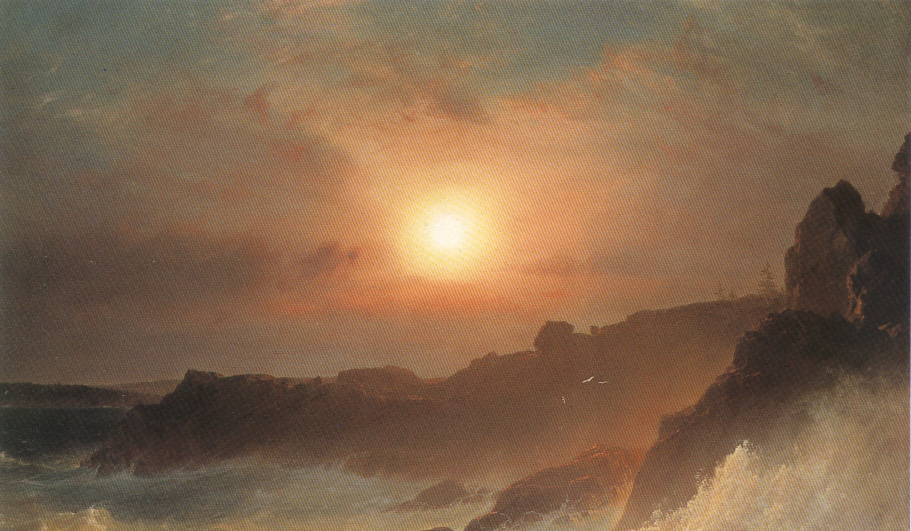 The dawning sun over the Acadia coast along Mount Desert Island's rockbound seashore is expressed here in Church's "Coast Scene, Mount Desert," 1863.
"This work is significant to both Hartford and the world. Church was from Hartford, the son of a businessman, so it resonates nicely the story of patronage here at the Wadsworth Atheneum. Church is celebrated for his treatment of of weather patterns of several times of day ... and all of his paintings were spiritual in nature. This was at the moment when landscape was defining American art." 3

Church apprenticed from 1844 too 1848 under Thomas Cole to become one of the most acclaimed practitioners of realistic landscape painting in the United States.

Martin Johnson Heade, 1819-1904.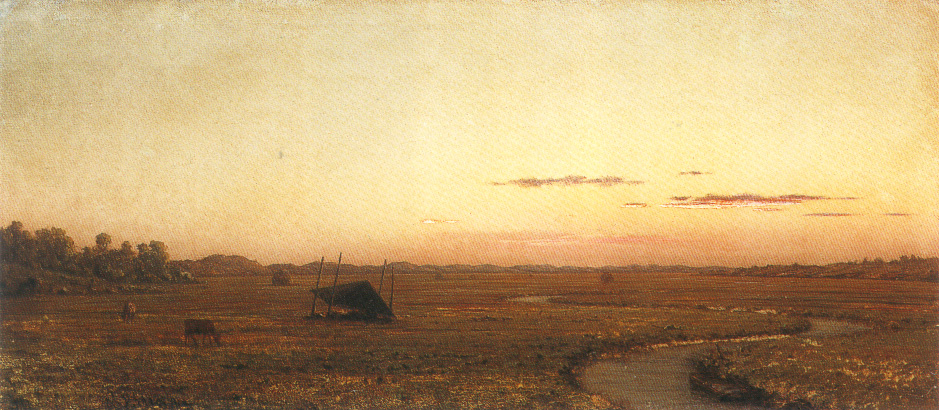 The National Gallery of Art of describes the development of Heade's artistry:
"During the mid-1850s, Heade became interested in landscape, in which, along with still lifes, he soon began to specialize. In an era when it was rare for an artist to specialize in more than one type of painting, he stands out as one artist whose landscapes, marines, and still lifes are equally powerful."

George Inness, May 1, 1825; Newburgh, New York – Bridge of Allan, Scotland, August 3, 1894. Many have argued that despite his use of light that the way in which Inness uses paint distinguishes his work from the luminists.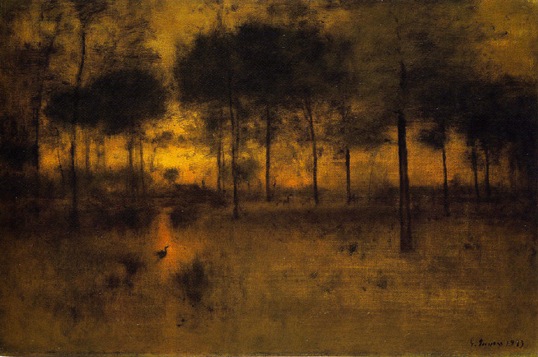 Art historian, "Rackstraw Downes," . . . added that "Inness painted the light of the whole painting. The surface is all suffused, sky and land are one. Weather is not denoted meteorologically, but built in. Especially when painting heavy, soporific late afternoons or autumn days, Inness is original and supreme. There are no anecdotes in his painting, and no false or a priori grandeur. He doesn't need Niagara, and Rome is not more glorious than New Jersey. What's American about Inness is an art issue: he is moody and sad. He was not at ease with his yearning as Corot was with his nostalgia; Corot was heir to a culture he could take for granted, whereas Inness was seeking one he could believe in."
"Adrienne Baxter Bell reproduces a photograph portrait of Inness holding a skull and notes that "Debates on the distinctions between appearance and reality, the seen and the unseen, the natural and spiritual realms, the waking and unconscious states, and on the filaments entwining sleep, dreams, and death continuously preoccupied both Inness and Hamlet."
"In fact, for every hour that Inness spent painting, he seems to have spent another hour harvesting metaphysical problems and ideas from the domains of philosophy, psychology, mathematics, and especially theology."

For example, see his Lake Nemi painting from 1857 of an ancient sacred place. Inness was known to have been influenced by the ideas of Emanuel Swedenborg, 1688-1772, the Swedish scientist, mining specialist, inventor, and spiritual philosopher.

"Ms. Bell maintains that during the last quarter of his life, Inness, who died in 1894, launched upon a 'new and ambitious mode of landscape painting.'

"She wrote 'Shaped in large part by Inness's devotion to metaphysical ideas, especially to theological ones, these paintings encourage viewers to think in new ways about themselves and about their relationships to nature and to the divine. Seen as a group, they remain some of the most thought-provoking and inspiring works in the history of art. The authority and the mystery of their effectiveness remain as powerful today as they did more than a century ago,' Ms. Bell wrote."
3) Erin Monroe, Assistant Curator of American Painting and Sculpture," The Hartford Courant. The Wadsworth Athenaeum, Hartford, Connecticut.
"Luminist works avoided picturesque landscape details, and instead embraced ambitious images of nature, which possessed a spiritual depth and an almost magical tranquillity. The composition was calm and decorated with or without minimal staffage. Broad, landscape formats skillfully provided the backdrop for panorama-esque views. The effects of sun and moonlight played an important role in the works."

Durand | Church | Heade | Inness