Worldview

An introduction to significant concepts in the history of ideas that shape out lives.
Worldview is a German concept "weltanschauung," used to convey the significance of paradoxes in the past.
---
---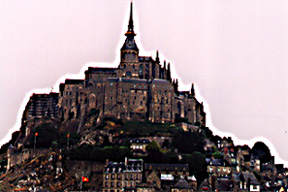 Mont Saint Michelle, Normandy, France, is a medieval monastic fortress built on an island surrounded by tidal marshes.
---
Meaning
worldview or weltanschauung; refers to the beliefs that a people have about reality, during a certain period in history, when compared to the actual conditions of their existence.
explains how ignorance feeds superstition in the past and now.
reveals how ideas, faith and concepts change based on new evidence.
helps us understand how mistakes have serious consequences if not corrected.
accounts for how, when and why knowledge accumulates and / or is lost over time.
For example:
When discussing Christophoro Colombo's achievements in "discovering" the "new world", historians employ the concept of worldview. They do this in order to discuss what Columbus believed he was doing when contrasted with what he actually achieved. Colombo though he found a route to Asia and believed he had landed in the east Indies south of Japan. In reality, we know that he went four times to the Bahamas, the Greater Antilles, the Lesser Antilles, the Coast of Central America and northern South America. He never went to Asia. Colombo died believing he had reached China's doorstep by discovering the isles of the South China Sea. His worldview was a great odds with his achievement.
Using the concept of worldview to see the tension in events between what
we believe and what actually is.
| | |
| --- | --- |
| beliefs about Colombo's achievements | reality of his findings |
| "sailed the ocean blue, in 1492." | sailed west over the Atlantic to the Caribbean Sea. |
| western sea route to Asia. | Western sea route to South and Central America. |
| isles of the South China Sea. | Isles of the West Indies, greater and lesser Antilles. |
| discovered the new world. | enslaved indigenous people to search for gold. |
| Spread the word of God among the savages. | brought European diseases, animals and plants to the Americas. |
---

Analyzing the term: Weltanschauung; meaning, worldview.
| | | |
| --- | --- | --- |
| German | Welt | anschauung |
| two words: | world | view, perceive |
| one meaning | our experience | our vision |
| examples | compared reality | personal perspectives |
| related meaning | the actual universe | social prejudices |

Anschauung is German for word for sense perception or view derived in 1856 from the term "look at," related to "shown."
The actual universe in spite of our social, personal, and irrational prejudices to the contrary notwithstanding.

Any worldview --or a combined personal and social understanding of reality-- is based on a pattern that forms a pattern language, or paradigm.

"The intellectual revolution generated by Darwin went far beyond the confines of biology, causing the overthrow of some of the most basic beliefs of his age.
For example, Darwin refuted the belief in the individual creation of each species, establishing in its place the concept that all life descended from a common ancestor. By extension, he introduced the idea that humans were not the special products of creation but evolved according to principles that operate everywhere else in the living world Darwin upset current notions of a perfectly designed, benign natural world and substituted in their place the concept of a struggle for survival. Victorian notions of progress and perfectibility were seriously undermined by Darwin's demonstration that evolution brings about change and adaptation, but it does not necessarily lead to progress, and it never leads to perfection.

Ernst Mayr, One Long Argument, pp. 1-2.
---
What are patterns?
This pattern language involves some lessons on how to interpret the world and alter our ideas about the world, when we discover that we are biased, prejudiced or just prone to errors.

---
---
---

How do we really know about things?
Methodology is the means we use to verify what we know.

The concept of worldview implies that some, if not all, of what we believe today will be eventually revealed as nonsense in the future.

Examples:

Once racist beliefs that Negroes, Arabs, Jews or Chinese people are inferior groups of people, were commonly accepted as revealed truth. Race is a concept in science that has no empirical equivalent idea in social thought. There is only one human race, scientifically speaking. Ethnic groups are not races, despite what terms we use. Superiority or inferiority is a subjective judgment of individuals that can not be applied to whole ethnic families of people.

The ancients believed that the five lights, the sun and the moon were gods and goddesses whose movement and position in the sky governed human conditions on earth. Today we know there are nine planets countless asteroids and other bodies, such as Saturn's and Jupiter's many moons that affect earth's gravitational fields.

---

Examining sources of knowledge


Follies are intense but false beliefs based on incorrect impressions derived from experience.

Fantasy, fiction and fanciful notions have real persuasive power to influence what we believe and how we think about things, and what we know to be true. Ghosts, unicorns, yetis, sea monsters and goblins all populate our psychic inner lives, often entertaining and frequently misinforming our intellect about what is imaginary and what is actually there.

A folly is a false belief in something based on intuitive, speculative or irrational hope that what can not be may indeed become real if we only just want it to be so.

Fictions are readily a part of our rational intellect. We create fictions in order to make sense of the world. The world is often bewildering. Language can tame that confusion, or words can also exacerbate the bewildering world by creating even more illusions. Fictions are agreed upon illusions that we all acknowledge in order to control the unknown, describe the complexity of experience, or otherwise organize our chaotic experiences.

Some fictions are:" the market,"or "Divine providence," or "Manifest Destiny," or treating corporations as legal persons.

---

Verifying our knowledge

---




Lesson: Facts: knowing what events mean.


What are events? Select any two events to compare and contrast. What have they in common, what are defining events in your lives?

Birth,

Earliest memories,

Sexual maturity,

First love,


Meaning, according to psychologist Victor Frankel is a lifelong search that characterizes our species. He argues that humans render meaning to people, places, things and events in our experience in order to recall, learn and grow from certain experiences.

Meaning then, like beauty may be in the eye of the beholder, or in the mind and intellect of the discerning observer.

In pursuit of meaning, it becomes evident that some things are more or less real and these we refer to as facts, and other things may or may not be real and these could be called "opinions."

Facts then are what can be verified, agreed upon and not open to dispute.

For example in 1492, Spain expelled the Moors from Grenada and Columbus set sail from Cadiz for the western Atlantic. What these facts mean is open to interpretation and hence, opinions shape what we know about facts.
But does this suggest that things mean what ever we want them to mean?
---

---



Lesson: grammar or the underlying structure of any language that all native speakers of that language knows, through practice, if not intuitively.
The systematic description of the features of a language is also a grammar.

These features are the

phonology (sound),
morphology (system of word formation),
syntax (patterns of word arrangement), and
semantics (meaning) that all native speakers of a language control by about the age of six.

Concepts

return to top of page

---




Lesson: syntax or the arrangement of words, phrases and clauses to convey a sense of understanding. The relation of words within sentences and among many sentences imparts a message or informs a work, lyric, or poem.

item

time

mite

emit

The order of the letters in these above words determines what they mean and how their meanings differ from one another.

Nature has different meanings due to its relation to other words and concepts.

---

Lesson: meaning arises from the context in which words, events and ideas are embedded.

This relationship among things that gives rise to meaning and thus meaning is not whatever a person arbitrarily defines as important, significant, or consequential.

Colombo, for instance, was an Italian navigator who sold his services, based on an incredible faith in himself and an egotistical persuasive ability. To him the world was not as most people thought and he convinced the Spanish Crown to allow him to prove the value of his ideas about a small globe and a sea route to east Asia.

From the view of the inhabitants of the island's he landed upon, Colombo and his sailors were intruding armies, with advanced technology and unforeseen infective diseases.

By analogy to Colombo's encounter with American Indians (yet another cultural mistake to call these people Indians after the subcontinent of India, in Asia), novelist James Clavell in the book Shogun tells the story about clashing worldviews between Japanese and European peoples in the Sixteenth century. What is valued by Europeans is often held in disdain by Japanese people and vice versa. It is the context of the events and the context of those events in opposing cultures that gives such diametrically opposite meanings to the same events of great significance to our modern world.


---
---
So what?


Its far too easy to make mistakes.
The questions you ask are more important often than the answers you give.
Correcting one's errors of judgment or amending one's mistakes is the initial step in learning.

---
Simple definition of worldview is worldvu.htm.
Detailed look at worldview concept: worldviews.html
Seven Lessons about worldviews is at worldview7.html
An example of getting it wrong: worldviews.html#Meaning
---
Analysis