The geological, geographical, & biotic setting: of the Columbian Exchange
J. Siry
The European invasions associated with the Columbian expeditions between 1492 ans 1517, caused the ethnic identity of Caribbean & Latin American peoples to be a mixture of distant --but nonetheless similar Asians, Africans and Europeans with Indigenous island peoples-- who are called, mistakenly, Indians.

A. Crosby, Germs, Seeds and Animals. Biological amalgamation was the greatest revolution of all.
Physical | Biological | Social
aspects of the depopulation and repopulation of the Antilles create a context.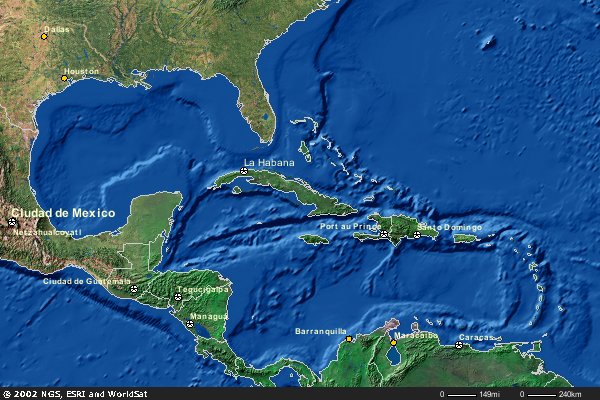 Physical -- defining the shape of the Indies: a New World Mediterranean Sea.
Intertropical convergence's annual motion north & south brings seasonal rain.
geo-morphology of the greater & lesser Antilles, Caribbean & Nazca Plates moving.
transverse faults form the greater Antilles mountains' (catch rainfall) watershed.
subduction zone generated volcanic mountain chains of the lesser Antilles.
cordilleran boundary versus coastal plains produced a variety of ecological systems.
Geophysical

core

Mexico & the Andean Cordillera (gold and silver): altitudinal zonation.
Valleys, Tenochtitlan, (chinampa) Aztecs as a trail to the NA Southwest.


periphery

Greater Antilles: Ciboney & Taino, inland and maritime cultural diversity.
Lesser Antilles: Taino & Carib, maritime cultures from South America.
geography as destiny, "nature" is a harsh task-master as it sets rigid conditions.

Coasts as boundaries or bridges?
Pump of the Gulf Stream: North Atlantic gyre (clockwise currents).

Turtles, sea turtles, manatees, birds

West Indies as the doorway, to the Americas; a staging ground, incubator.
acclimation of Euro-fauna and flora required "seasoning" in the Antilles.
sugar islands as a source of investment wealth fed the industrial revolution.
Biological -- The study pf living things, life sciences, the life cycle.
Virgin soil diseases & the apparent absence of communities of settled farmers.
Whales & Marine Turtles, Mangroves, & fisheries from the Canary Isles to W.I.
Manioc, corn, & vegetable staples fed invaders with immunity to Eurasian diseases
Isolation, endemism and exotic introductions, not religion explains Euro-successes.

Isolation allowed for the development of biological diversity and suppressed immune response to otherwise common and now less virulent sickness.


Genetic variability, today, explains the outcomes of the Columbian Exchange, as the mixture of European and American flora & fauna.

The biological elements of culture are evident in the character of and quality of outcomes from the Columbian Exchange

Health and security.

food, subsistence and production
fuel, water and human power versus wind and animal power
fiber, fabrics from vegetation versus hides & tallow
forage, variety and life cycles of domestic animals

Psychological and ideological, impact of disease on beliefs and ritual behavior, such as civic and religious obligations, observances, and labor.

Social -- European cultural dominance (language) & Amerindians staple foods.
Sugar, Encomienda system, communal water rights, cattle, horses, swine, wheat & oats.

European Feudalism as transplanted to the America's favored:
Royal families in Europe.
Granted rights to the eldest male heirs
Encouraged absentee landlords
granted special status to clergy and church lands
operated monopoly enterprises for the sole benefit of the state.

Indian labor after a precipitous decline was insufficient to meet the needs.
African slaves, 25 million transported in 250 years.(conservative est.)
Divergence in attitudes about land, vegetal and animal life and peoples' well being:
Indigenistas were largely vegetarian, worshipped corn, sun and storm deities
Europeans were cattle and stock owners, land was inanimate property, believed in the trinity as a mystery and saints as mortal yet transcendent beings.

Context of settling the Americas
depopulation coupled with forced migration from west & southern Africa
land grants to lesser nobility in exchange for service and a percentage return.
trade monopolies (mercantilism) given to merchant adventurers (companies).

Antilles are an island arc and transverse faulted group of archipelagos forming the core and the periphery of the Spanish borderlands of North America.

Staging ground or proving ground for the European mastery of the two Americas.


Arawaks & Columbus: Two worlds collided, partly fused to enrich Europe.

Plantations, mining, & commerce for export all emerged within 50 years.
Cortez & Pizarro, domestic animals & diseases helped conquests.
African slavery was based on Portuguese trade on gold & ivory coasts.