| | | |
| --- | --- | --- |
| | | Rollins College |

Technology index

landscape index

words index

social science index

photograph index

Darwin Index
learning | Readings | Research | Final exam question | maps | weekly | Begin

---
How is humankind a parasite or a progressive agent of change on this planet?
Environment, landscape, settlements, geography, & policy are among the most challenging of historical subjects. For those of you seeking a challenge, America's ecology and land-use patterns may be a most rewarding inquiry because you will learn about our common heritage that informs today's conservation challenges.
Here we explore several layers of this subject, focusing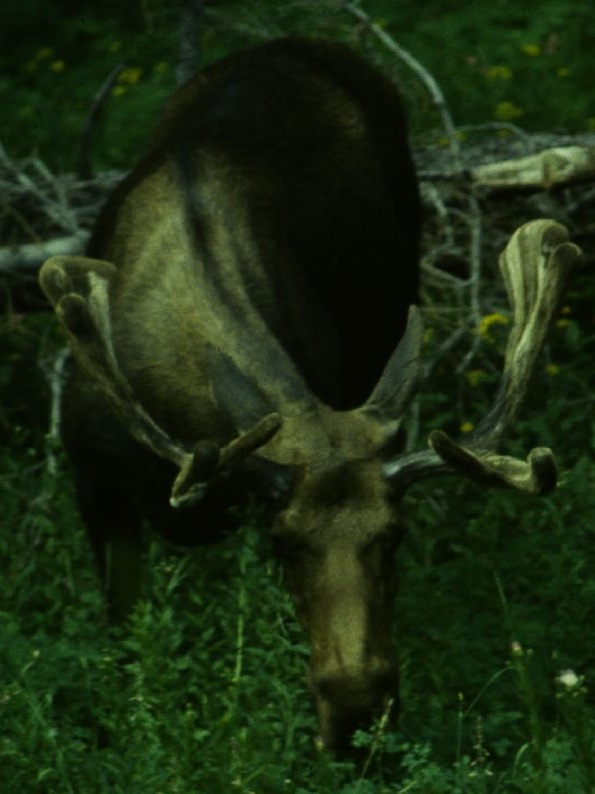 especially on the questions that environmental history raises about the character of ecological existence, federal authority, relations among ethnic minorities, and the moral imagination required to understand our place in the history of America's landscapes, wildlife, and economic geography.
Naturalism: The extent and influence of biological conditions and the technological revolutions that altered the biological diversity of regions in our nation's past is the focus of this class.
You examine evidence to decide how well humans adapted to climatic changes that altered vegetation, animals, and landscape. Further inquiry and exploration reveal that humans are active agents, changing the Earth's very face, watersheds, and atmosphere.
This documentary analysis of art, literature, maps, photographs, geography, and population, emphasizes the extent to which humans substantially transformed North America's diverse terrain over five centuries.
The ecological themes we read and discuss should generate questions about how well we know these past threats to our physical life support system, its biological diversity, and this planet's fragile human freight. Each of you must decide together how threatened are the landscapes and resources on which our technological society depends.
The course builds on knowledge of geography, art, biology and literature so you can weave these separate bodies of knowledge to best answer "What is worth protecting in America and how do we preserve our natural heritage for future generations to appreciate, use, or pass on?"
Doing well in class | Web sites | Assignments | Readings | Grades | Art | Grand Canyon exercise | Final Exam question | Linked topics

What must you do to do really well?

• Readings, always complete these before class to discuss their content and demonstrate your understanding of the assignment for that day.
• Assignments, always hand in on time & consult with me or the writing center in rewriting your essays.
• Calendar, be sure to make appointments & plan ahead with turning in draft essays on time.
• Attendance, you earn points every day that you contribute to class discussion based on the texts.
• Participate in the land game or Grand Canyon "role play" decision-making exercise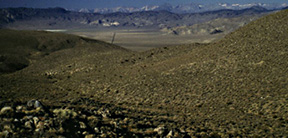 View of the high desert, White Mountains, California.
Understanding the landscape art and artists of America as a source of envisioning past landscapes and present terrain.
Assignments


 All assignments are graded with careful attention to each of these criteria:  CLIFS.

	1. clarity, coherence, spelling, grammar & logical consistency.
	2. length & development of your arguments, ideas, or presentations.
	3. information from the class texts, library research, or interviews.
	4. frequency of examples from the authors, lectures, journal, notes & readings.
	5. substantial discussion of the subject & introductions, summaries, conclusions.




Etiquette: Class time is spent on comparing oral & written interpretations of the readings. Everyone 
over the course of the term will be asked to orally interpret the readings and express their writings for 
the rest of the class in a variety of informal and more structured formats. These activities, including 
free-writing, group exercises, problem solving, answering questions or leading discussions, are done 
to increase other participant's comprehension.

Free writing, is done during class on a weekly basis and should be used to start thinking about what you read.
 Good passages could be revised and used in your papers.

Frederick Church, American artist, painting of a 19th century eastern woodland forest.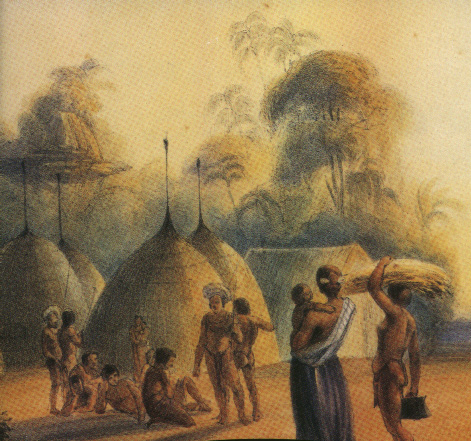 Artist's imaginative portrayal based on Spanish descriptions of Arawak Amerindian village living.
Readings | Grades | Art | Grand Canyon exercise | Final Exam question | Web sites


Readings
Select one of these books or novels to read for additional credit, or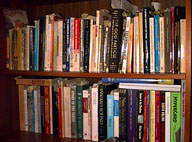 to better understand our nation's environment:
Rachel Carson, Silent Spring, (Boston: Houghton-Mifflin,1962) (ISBN 0-395-45390-9)
Reisner, Cadillac Desert.
Merchant, Problems in American Environmental History. (ISBN 0-669-24993-9)
Wallace Stegner, An Angle of Repose
The American frontier's landscape heritage, J. V. Siry,
Willa Cather, Death Comes to the Archbishop
John Steinbeck, The Grapes of Wrath
William Faulkner, Big Woods: "The Bear"
Barry Lopez, Arctic Dreams
Kline, First Along the River.
Recommended Reading: ( All in the College Library )
Jared Diamond, Collapse, Chapters on: Montana, Easter Island, Mayans.

Joseph Siry. et. al. (ed.), Feeling the Heat in Florida,

Joseph Siry, "Coastal Zone, Everglades", Encyc. of Conservation & Environmentalism, 1994.

Joseph Siry, "Wetlands," Encyclopedia of Southern Culture, 1990.

_________, everglades.

_________, wild frontier.

Write a script from an essay you build, using all of the authors, to answer with evidence and a strong argument the following question.

The verbal presentation of your essay is presented during the final exam hours.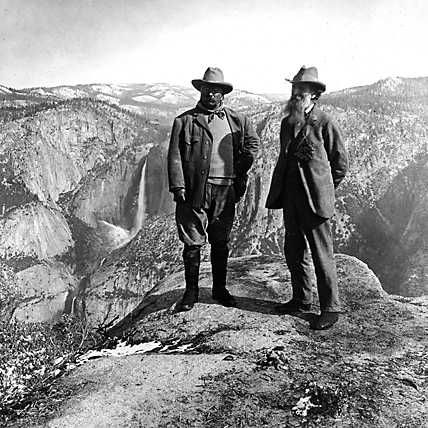 Final exam question:
What is worth protecting in America and how do we preserve that for future generations to appreciate, use, or pass on?
Orally interpret your practiced summary in a five minute presentation answering the question:
"What is worth protecting in America and how do we preserve that for future generations to appreciate, use, or pass on?"
and this web site.
Two men of differing opinions about the land met in Yosemite Valley in the 19th Century and shared what later became the genesis ideals of the national parks and the national forests, these were Theodore Roosevelt and John Muir, both avid outdoor recreation advocates and both fierce opponents of the laissez faire ideology of land use that had so destroyed the nation's timber, fisheries, wildlife and scenic beauty.
Preservation differs from conservation and both contrast with commercial uses.
Begin | Course described | Syllabus | Web sites | Assignments | Readings | Questions | Intent of this class | Grades | Art | Grand Canyon exercise | Focus


My Intentions* when teaching and learning in this class
 * 

Goals of this course, relating to the historical competency  general education, the departmental  and developmental  requirements.




1. To articulate verbally and reveal repeatedly in your writing the words, ideas, values and beliefs of 
the authors about the historical process that you are reading. [Three essays to rewrite.]

2. To express verbally  a description of cases and events based on the assigned readings.

3. To read critically and record regularly in your notes the facts and opinions that form the basis of 
discussions in the class with frequent references to documentary evidence from the texts.

4. To demonstrate how you resolve differences between facts and opinions in terms of tone, rhetoric, 
degrees of error and false witness, by orally  presenting your written ideas.

5. To display how you organize your thoughts  in a recognizably chronological pattern when 
describing the significance of documents, persons, places, events or evidence of historic interest.

6. To orally interpret your readings in light of carefully listening to others and contrasting their notes 
with your notes to more fully comprehend the readings and discussion material.

7. To analyze definitions of key concepts in writing thereby demonstrating both very obvious and 
more subtle contrasts between competing visions and among the cornerstone ideas of the class.

8. To practice verbally and demonstrate frequently in writing a synthesis of opposing or competing 
viewpoints as derived from primary and secondary works in the assigned readings.

9. To argue orally based on written evidence from reading, research and listening for the importance of 
protecting the earth's life support systems, human security and biological diversity.

10. To find, examine, express verbally and reconsider in writing the persistent challenges facing our 
social institutions, ethical ideals and means of subsistence given the recent decline of wildlife 
resources, the increase in population and the historically crushing impact of consumption.

Course competencies as related to outcomes described in detail.

Next


Learning survey form | Readings | Research | Final exam question | index





learning survey form | Readings | Research | Final exam question | index



Authors whose ideas we discuss.
All discussions: these are links to notes on assigned authors & sections of chapters.
P
ages to see and links for your papers
Monthly focus questions | Art | Syllabus for 2012 | Final Exam question
Try the World Wide Web, authorized URL's to visit:
The National Gallery, London houses one of the greatest collections of Western European painting in the world. These pictures belong to the public and entrance to see them is free.

The Met (Metropolitan): The Metropolitan Museum of Art's collection contains more than two million works of art ranging from medieval armor and European paintings to the world's sculpture, artifacts and tapestries.

U. of California Berkeley Libraries.

University of California at Berkeley Map Room.

University of Texas Map Collection.

Yale University Map Collection.

University of California & Stanford University Collections.

Photographs & Exhibits:
subjects related to landscapes
America's frontier landscape heritage
technical images | photographs from around the world | gallery | more photographs | picture archive
Technology index

landscape index

words index

social science index

photograph index

Darwin Index