Land is, but becomes far more than, mere terrain; Emerson distinguishes the landscape from the mere land that is owned as property. He argues that landscape in the largest sense is the product of life possessing a complicated historical structure based on ecological functions.
landscape -- "the thin layer of soil that forms the patchy covering over the continents controls our own existence and that of every other animal on the land. Without soil, land plants as we know them would not grow, and without plants no animals could survive."  
(Carson, p. 55)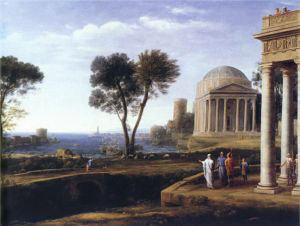 geographical regeneration – the articulation of an idea by George Perkins Marsh (1864) that all civilizations live only so long as they renew the earth upon which they sustain themselves. Water, soil, vegetation, forests and animals are all necessary components of a living "self-willed" system of ecological services that sustain life and nourish civilizations.
The concepts of landscape regeneration and restoration of "disturbed harmonies" are inherently related.
Geographical regeneration was associated by George P. Marsh (1864) with the call for "restoration of disturbed harmonies" that he felt all civilizations must undertake if they were to renew the water, energy, air, and landscape upon which they depend for commercial gain, spiritual inspiration and subsistence.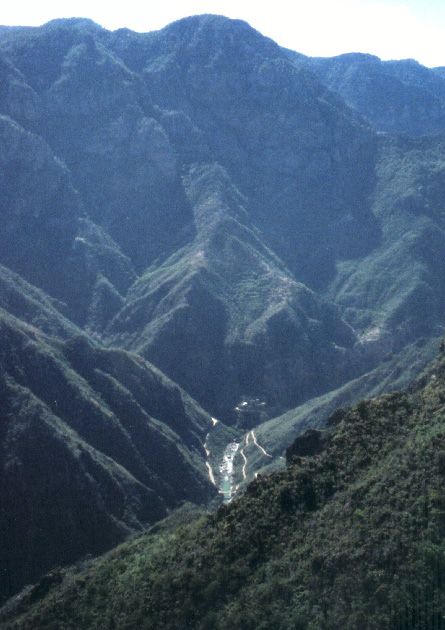 Copper Canyon in northern Mexico attests to the power of water to sculpt the landscape.
The idea that land is a free good in both Marxist and liberal economic theory in the 19th century was finally challenged by Aldo Leopold and community ecologists in the 20th century who argued that the land organism, like any creature required nourishment. Hugh Hammond Bennett capitalized on that idea during the dust bowl, as the landscape of the southern plains literally blew away in a series of droughts that left, once marginal farmland devoid of protective vegetation.
WE STAND NOW where two roads diverge. But unlike the roads in Robert Frost''s familiar poem, they are not equally fair. The road we have long been traveling is deceptively easy, a smooth super highway on which we progress with great speed, but at its end lies disaster. The other fork of the road—the one 'less traveled by'—offers our last, our only chance to reach a destination that assures the preservation of our earth
1962, Silent Spring, p, 144.
utilitarian | enclosure movement | Emerson | Thoreau ecology | health | coastal wetlands | ecological rules