Four primary building blocks of a habitat can be thought of as:
The actual area in length, width and depth that something, some person, or some structure occupies or inhabits is called a habitat.
| | | |
| --- | --- | --- |
| | Habitat | Area occupied and nutrients absorbed in space taken. |
| W | Water: | The necessary ingredient, buffer, universal solvent and modifier of behavior while sustaining life. |
| E | Energy: | The available sunlight, fuels and food sources to replenish anything that gives off heat, such as radiation. |
| A | Atmosphere: | Literally the climate and weather of an area and figuratively the ambiance or character of any place. |
| L | Landscape: | The actual slope, sun angle, size, contours and geological conditions of any topographical location. |
Basic information about how to think about where creatures live, nest, feed and thrive requires that you have a concept of the non-living parts of the ecological system.
This is called the habitat.
To conceptualize a habitat when considering how a biotic community functions it is important to see how water, energy, air and land work as a unit to sustain each living element in an area.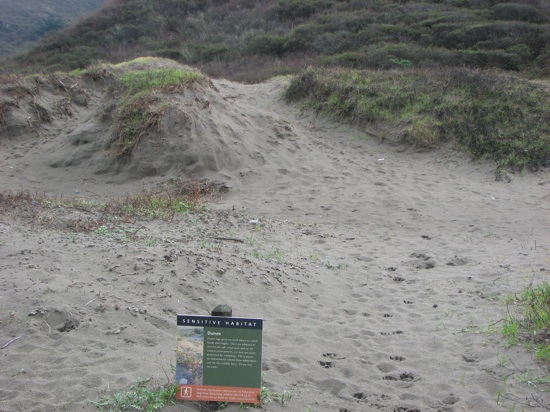 Sensitive habitat sign for visitors to the Muir Beach State Park.
---