"Carrying Capacity: Earth's Bottom Line "
Sandra Postel,
State of the World, (NYC:Norton,1994). pp. 3-21.
---
---

"human species… an agent of geological proportions."

irony
"in our efforts to make the earth yield more for ourselves, we are diminishing its ability to sustain life of all kinds, humans included." (3)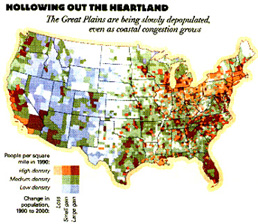 Atlantic Monthly, April, 2003.
---
---
---
Accounting for extent of area consumed:

---
---
"the pace and the scale of degradation – is historically new."
"Population and economics grow exponentially, but the natural resources that support them do not."

"Carrying capacity is the largest number of any given species that a habitat can support indefinitely."
"When that maximum sustainable population level is surpassed, the resource base begins to decline -- and sometime thereafter, so does the population,"
(pp. 3-4)
---
thesis | definition | evidence | checklist | summary | contrasted with assimilative | map
The author's example of carrying capacity being exceeded is:
St. Matthew Island Reindeer herd
"the large herd had overgrazed the island's lichens, its main source of winter forage, and the animals faced extreme competition for limited supplies during a particularly severe winter."

David R. Klein ( University of Alaska ) "concluded that 'food supply, through its interaction with climatic factors, was the dominant population regulating mechanism for reindeer on St. Matthew Island." (4)

"As a result of our population size, consumption patterns, and technology choices, we have surpassed the planet's carrying capacity. This is plainly evident by the extent to which we are damaging and depleting natural capital."

"The human population will not crash wholesale as the St. Matthew Island reindeer did, but there will likely be a surge in hunger, cross border migration, and conflict -- trends already painfully evident in parts of the world."

"...technology and trade can buy time to tackle the larger challenges of stabilizing population, reducing excessive consumption, and redistributing wealth." (5)
thesis | definition | evidence | checklist | summary | contrasted with assimilative | map

"the doubling of world population, the quintupling of world economic output, and the widening gap in the distribution of income."

"... the growing inequality in income between rich and poor stands out in sharpest relief." (5)
---
Contrasting carrying capacity and assimilative capacity: both are measures of qualities inherent in the land's ecological systems, but they are very different measures of impacts.
capacity
Carrying
Assimilative
defined as,
space required,
absorption rates,
defined by,
limit on additional numbers.
quantity of accumulated remains.
examples:

fish in a lake.

cows in an acre.

bacteria in a populace.

(access)

nitrates in a lake.

dissolved oxygen in a river.

nitrous oxide in air.

(waste)

accounted for by:
number / area or space.
amount / volume or frequency of flow.
venues using:
landscapes or habitat features.
air, water, energy, rivers, bays.
where done:
pastures, forests, or subdivisions.
Mississippi River's "dead zone."
measures:
impact's density & exerted pressure
concentration and recovery potential
thesis | definition | evidence | checklist | summary | human | contrasted with assimilative | map