Carbon dioxide levels
Rise in CO2 | ENSO periodicity | defining ENSO | contrasts | strongest El Niño years | Economic cycles | factor summary
Among the lowest annual emission rates of carbon dioxide in parts per million are these seven out of 45 years:
1960 • 1964 • 1970-1971 • 1974 • 1982 • 1992 • 1999
Graphic 1.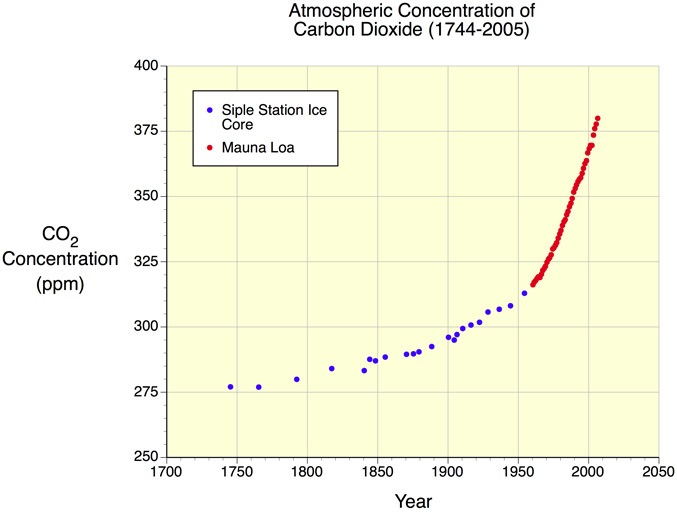 C

omparison of data & climate trends


Year

ppm

ENSO +

El Niño

ENSO -

La Niña

U.S. Economy

1960

0.50

√

cooler

recession: 4/60-2/61

1964

0.30

√

moderate warming

1970

1.00

√

moderate cooler

recession until 11/70

1971

0.78

√

weak cooler

1974

0.76

√

weak cooler

recession until 3/75

1982

0.71

√

strong warming

recession until 11/82

1992

0.45

√

warmer

recession ended 3/91

1999

0.91

√

strong cooler
ENSO is the El Niño, Southern Ocean oscillation between El Niño or warm wet years in the Americas and La Niña or colder, drier years in the Americas, based on the heat capacity of the Indian Ocean and the failures of the East Indian monsoons that have a periodic frequency.
Graphic 2.
The contrasts between prevailing and anomalous El Niño conditions in the equatorial Pacific Ocean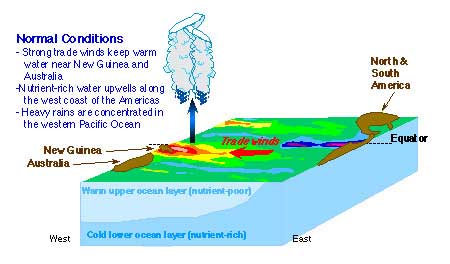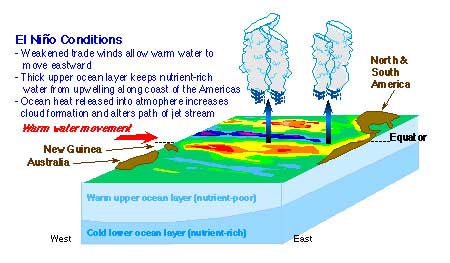 See for a list since 1950s of El Niño and La Niña events.
The annual average increase in carbon in the atmosphere over twenty years (1985-2005) is 1.70 while the forty-five year average increase is 1.39 from 1959-2005.
What factors account for the decline of the ENSO in those eight selected years, or five out of forty-five years?
"For the past several decades, about half of all years have experienced La Nada conditions, compared to about 20 percent for El Niño and 30 percent for La Niña."

"'Neutral infers something benign, but in fact if you look at these La Nada years when neither El Niño nor La Niña are present, they can be the most volatile and punishing. As an example, the continuing, deepening drought in the American West is far from 'neutral,' he said."

NASA/JPL
Alan Buis,"'La Nada' climate pattern lingers in the Pacific," NASA's Jet Propulsion Laboratory NASA News, September 9, 2013.
ENSO is the El Niño Southern Ocean oscillation meaning the periodic warming and cooling of the surface waters of the Pacific Ocean due to its geographical situation with respect to the usually warmer Indian Ocean.

Graphic 3.

Indian Ocean

East Pacific Ocean
By sliding the mouse over the graphic compare the changes in mid-ocean during the ENSO cycles.
El Niño or warm wet years were strongest in:
1957
1965
1972
1982
1997
Recessions in the US: 1948-49 to 2001-02
The years of economic downturns were:
1957-58 for eight months

1960- 61 for eleven months

1969-70 for twelve months

1973-75 for seventeen months

1980 for seven months

1981-82 for sixteen months

1990-1991 for nine months

2001 for eight months
National Bureau of Economic Research
Graphic 2: recession years ◊ and climate variability

...............................◊..◊......◊..........◊◊...◊◊◊.........◊◊................◊.....................◊.................................◊
There were 88 months of recession (◊ above) in 44 years since 1957 with an average of 11 months duration and sixteen percent of those 43 years were recession periods based on the months during which recessions happened. Red indicates warmer and blue cooler periods.
If recessions affect production of carbon emitting industrial processes, then recessions may account for all but three (1964, 1971, 1999) of the low emission years from 1960-2005.

But do these times of prosperity coincide with high emission rates?

Deforestation rates and vulcanism are also important variables to consider.

There is little positive correlation between economic activity and the response of ENSO cycles to the decline in per capita emissions.

By closing the production and exhaust loops reuse would reduce excessive carbon dioxide accumulation.
US Census Bureau (decennial census data)
Population pyramids - dynamic change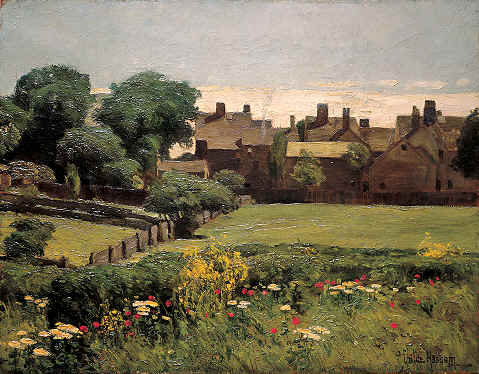 We live within, not on; entwined with the biological wealth of – the world.

Rise in CO2 | ENSO periodicity | defining ENSO | contrasts | strongest El Niño years | Economic cycles | factor summary

Archer | Christianson | Gelbspan | James Hansen, 04 : Hansen 06 | McKibben| Musil | Schmidt | Weart | Wigley

Technology index

landscape index

words index

photograph index
This button below works as a navigational aid.
---
gallery | site-serach | back to population | Web site's themes
schedule | Research home | Atlas | sources-authors | Ecology | laws | reliable web sites | quick look
Science Index | Site Analysis | Landscape Index | Global Warming Index | Nature Index | Research sites | Genes
---
Terms | Glossary | Word webs | Basic vocabulary | Advanced Vocabulary | Antonyms | Synonyms | Etymology | Concepts
---
Writing | Interviews | Free Writing
---
Created August 6, 2008 -- Last Updated on 12-08-2013.
By Joseph Siry