Yes, they may!
Because any of several models reveal significant changes in how people use resources. These uses reflect changes that are important to express in class discussions and your essays.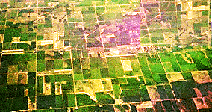 models | concepts of the world | land and labor | labor | summary

If you are overwhelmed by details and the data are confusing try these models --1) simple, or 2) complex-- to organize your notes, direct your thoughts, and improve your expression based on the content of the textbooks.
Keep track of important ideas and contrast that with your impressions with respect to what you read. The textbooks are the key to your success.
The crucial case of forests and our competing values.
The Simple approach:
Because it is linear, this is a simple approach to depicting the way large segments of society relate to one another can both reveal and hide important ways one facet of social organization influences others.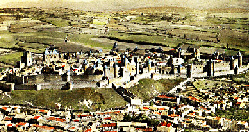 Pictured here above is an aerial photograph of a settled landscape, the bastide of Carcasonne, restored from the way it appeared in Middle Ages. The relation of the buildings to the fields, forests, roads and reservoirs is complicated but unified by human use of and dependence upon the settled landscape. The Greeks referred to the collective human improvements of the land by modifying orchards, fields, wood lots or coppices, reservoirs and commons as the habitable area or Oikumene .
These significant changes in the landscape dictated by human occupation are a visual representation of the simple model. "Land when mixed with labor creates wealth." The buildings, fields and woodlands are tangible assets, examples of the capital wealth created by labor and the resources of the land.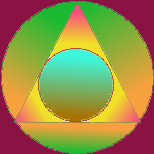 Types of models used
Merchant's concentric

labeled concentric

ecosystem model

social ecology

Comparing contrasting two models

Linear model

Functional model
related pages on models
Models reveal different facets of related dependent qualities


| | | |
| --- | --- | --- |
| | | |
| | | |
| | | |
Definitions
Model based pages:
An Ecological Model conceptual frame applied to social labor conditions
concentric model tied to weal
ecosystem drawn as a model of relations
Ecosystem model contrasted with Merchant's three concentric spheres argument
Ecosystem Model of Cultural, Social, and Ecological concentric Spheres
Ecological Model discussed in terms of wrting an essay
ecological model with three concentric modeled spheres
Model of Merchant's ecological change or revolutions tied to labor theory of value and ecological core

weal explained
A problem in thinking about Wilderness



Starting Page | Contents of the Site | Web site | Index of models
These buttons below work as navigational aids.