Navigating the site:
Ecosystem
Schematic drawing used to model outstanding features an ecological system, or ecosystem.
---
Each section of the diagram links to the ecological parts of any place.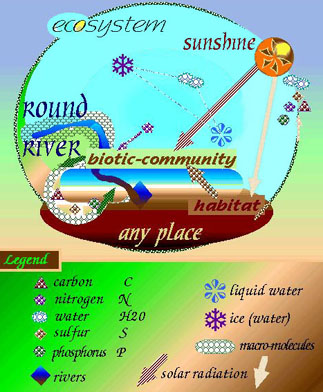 A schematic diagram of significant component parts of an ecosystem.
The above schematic is not to be confused with Ecological Core diagram based on Historian Carolyn Merchant as interpreted by J. Siry.

Ecology (defined)
Related concepts

Design with Nature, by Ian McHarg

Marshes of the Ocean Shore: ecological ethic

An Ecologist looks at cancer. Sandra Steingraber

Energy from an ecological viewpoint

land as a metaphor and landscape
---
History | Map | Simpler model | Eco-Site-index | Web site



Please send your questions or comments to me, Joseph Siry

This page was Last revised on [15-dec-06] August 25, 2007.
- By Joseph Siry -