For centuries before Lavoisier's experiments the four elements of Aristotle and Hippocrates dominated intellectual explanations of nature's underlying and generative components–or private parts–if you will. With the discovery that water was a compound of two other more basic substances, oxygen [O] and hydrogen [H].
Comparative explanations

Discovery

Established wisdom

Earth

empirical

Air

Complexity

Fire

Water

Two views

Compound, polar molecule

Four elements
What this discovery meant was that four elements of earth, air, fire and water had to be revised to correspond to reality. Eventually the French naturalist discovered 17 elements; though he mistakenly listed fire and light along with substances such as nitrogen and sulfur as "elemental."
Notions of Chemistry before Lavoisier.
Antoine Lavoisier, a French naturalist, developed Joseph Black's work on material substances (compounds) further. During the 1750s Black conducted a series of experiments on magnesium carbonate (MgCO3) and calcium carbonate (CaCO3). He carefully weighed the substances before and after heating and discovered that they seemed to lose mass. He demonstrated that what was actually happening was that a gas was given off – he called this "fixed air" - and that a solid metal oxide was left behind. We now know that "fixed air" is carbon dioxide. By carefully measuring the masses of chemicals before and after reactions, Lavoisier was able to show that although matter might change its state, from a solid to a gas, for example, the overall quantity of matter is the same at the end of any chemical reaction as it was at the beginning.
This is called the conservation of mass, and Lavoisier's discovery was a key step in understanding the nature of matter.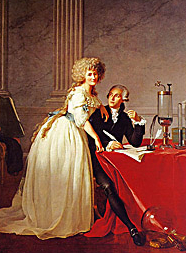 Metropolitan Museum of Art, New York
Portrait of Monsieur Lavoisier and his Wife, by Jacques-Louis David
Lavoisier also carried out important experiments into the nature of combustion. At that time, many people believed that when a substance was burned, it gave off a gas, which they called phlogiston. But Lavoisier's experiments revealed that, on the contrary, something is taken up from the atmosphere when a substance is burned. Through his experiments he demonstrated that this substance is oxygen. In 1789 Lavoisier published his influential Elementary Treatise on Chemistry, which set out his ideas about atoms and elements and how they react to form compounds.
During the French Revolution Lavoisier, who was also a tax assesor or revenue collector for the Crown, was branded a traitor. He was tried, sentenced and guillotined, all in one day. One story relates that Lavoisier's final experiment was to see if a severed head remained conscious after death. He told his assistant that he would continue to blink for as long as possible after he was decapitated; the assistant apparently counted some 15 blinks.
Predecessors:

Joseph Siry, written discourses
On the conservation of natural values.
Analyses can be found in the following pages:
Marshes of the Ocean Shore, overviewSynoptic Notes on Marshes of the Ocean Shore

Where exactly is a fifth dimension?

---

Science Index | Social Analysis | Population Index | Global Warming Index | Nature Index | Genes