How the Earth's wild areas are significant to protect from harm, loss or decay.
dialectic | preservation | Alaskan case study | Transboundary pollution

Organizing our ideas about protection of land and water resources.
A dialectical approach:
Two views: Nash Alaska & Pollan: a dialectic one view contradicts the other.
Nash. pp. 272-315.
Second Nature, Michael Pollan, 1991. pp. 209-238.

Dialectic means two opposing or contradictory views that –it is implied-- must be reconciled.
| | | |
| --- | --- | --- |
| Roderick Frazier Nash | versus | Michael Pollan, |
| The wild ideal | vs. | "The Idea of a Garden" |
| Nash wilderness is sacred ground | vs. | Wilderness is inadequate to meet our current needs. |
| Necessary now, more than ever before! | vs. | The garden is a more accurate description of what we need. |
Pollan, the Garden is a cultivated and responsible ideal.
Nash, we are a nation of wilds, wildness defines our character as a people.
"In Wildness is the preservation of the world."
Concord Lyceum address, by Thoreau in Nash, p. 84.
Seven reasons to protect wild areas include:
Historico - cultural Fire, invasive exotic plants

Scientific, ecological Introduced animals

Commercial l- recreational Loss of biological diversity

Survival of indigenous people impacts on the resources

Case study is Alaskan Wilderness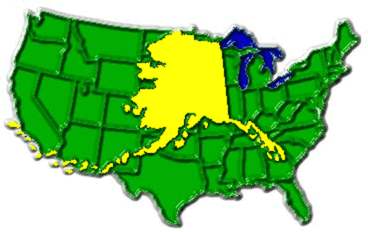 Widespread belief among conservationists that " Alaska could be different." (p. 291)

Who Robert Marshall, 1920s Alaska Wilderness "the last frontier" (p. 272)

What an area 1/5 or 20% the size of the US. With < 150.000 in 1959
When Alaskan Native Claims settlement Act,12-18-1971, & the oil pipeline
Where Between Russia and Canada, the Pacific and Arctic Oceans
How Do we balance the necessity of resources for industrial economy with:
Subsistence: Aleuts, Inuit, Athabaskan and other native peoples
Nation's natural heritage preservation tradition: Muir & Gannett on the Harriman expedition. Is scenery more valuable than timber & hides?

Recreation and tourism

Development and Conservation
Arctic biology and biogeography: permafrost, tundra, caribou, musk ox.
Background is Leopold, Marshall, and a comparative approach to saving wildlife & wild areas
(16, A philosophy of protection Nash, pp. 238-271.)
Ginny Wood (compare to Mardy Murie, in Williams) "space, spectacularly beautiful space that is not all filled up with people and industry…" See Gannett's idea (Harriman expedition) about scenic values.

• Commercial Values "Project Chariot: atomic bomb built harbor at Port Hope 1958."
• Ecological Values Wildlife, fisheries, salmon, 1891 Afognak Island Wildlife Refuge.
• Scenic Values Brooks Range, Denali, Glacier Bay, Chugach Rain Forest
• Survival (subsistence) Values homesteading, trap, prospect, hunt & fish.


How do we manage conflict between oil drilling on the Arctic National Wildlife Refuge?

Hetch Hetchy legacy similar to Yukon Flats Reservoir and Ramparts Dam project 1959
Dinosaur National Monument legacy: National Interest Lands

Conservation Act, 12-2-80.
104 million acres set aside, 56 million acres of wilderness
trebled size of wild areas in US while it assures native rights to land.

What are our values trying to achieve?
Utilitarian versus ecological criteria: Arctic North Slope oil,
Naval Petroleum Reserve # 4. The energy reserve on the high frontier.

Gulf of Alaska and Bering Sea fisheries

"Its tough up here…this country can kill you."
Alaska Governor Walter "Wally" Hickel

"the whole concept of wilderness in Alaska is ethnocentric to the point of being insulting." (p. 277)
---

Our Common Threat: ecological consequences of pollution at a distance: McKibben, pp. 1-44.
Mid-Term * report: compare Nash w/ Leopold's "A Taste for Country" pp. 177-226. (oral)
What is a wilderness philosophy and does the Pollan challenge undermine the urgency of protecting the wild?
Step 2: Show how a Taste for Country --by Leopold-- relates to or reconciles this split in protecting wild natural areas that separate Nash from Pollan.
(by comparing Leopold, Nash, Pollan, & Williams in a brief essay. )
---
Possible Field trip to the Chelonian Institute, Oviedo, Alafaya Trail N of Mitchell Hammock Road Decide Thursday or Friday 1 PM - 4 PM:
protecting wild species; endangered species and adequate resources.
---
dialectic | preservation | Alaskan case study | Transboundary pollution
Genetics | Science Index | Site Analysis | Population Index | Global Warming Index | Nature Index | Brief