---

---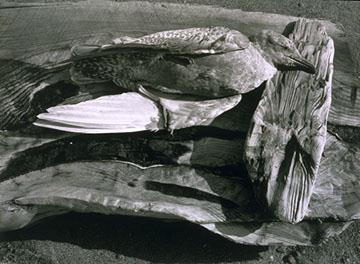 Seagull & driftwood on the Navarro River, Minor White, photograph 1950s.
Essay
"Coastal Zone Management"
by
Joseph Siry
Coastal zone management refers to a body of laws passed and amended by the U.S. Congress to assist comprehensive land-use planning in counties adjacent to the sea. The law affects all of those states bordering the Great Lakes, Atlantic, Gulf, and Pacific waters in the implementation and enforcement of comprehensive regional planning. The attempt to balance conservation with development in the densely populated counties was necessary to forestall existing and potential resource conflicts. The legislation established broad guidelines under which planning agencies were to implement comprehensive land-use plans to minimize antagonism among competing users of beaches, marshes, wetlands, or estuarine waters. Seventy- five percent of the nation's largest cities are in these coastal zones.

Conflicts among land owners and resource users along the coast arise from transportation improvements, electrical power plant location policies, wildlife protection, sufficient and accessible recreation areas, limited fresh water and diminished salt-water quality. Governments have a financial burden to insure coastal and barrier island property from the risk of flooding due to storms. State and county governments have constructed and maintained breakwaters, jetties, bridges, causeways, or dikes to provide access or assist in the protection and evacuation of coastal residents.

Coastal zones differ in size and may extend inland from the tidal shoreline from one to several kilometers. Coast is derived from the Spanish word "costa" meaning the side of, or beside, referring to the edge of the sea. Coastal areas are characterized by a variety of types: sandy beaches, silt-laden marshes (mangroves in the tropics), rocky shores, and submerged lands beneath rivers, bays, sounds, or lagoons. The engineering alone required to make economically productive use of wetlands, islands, harbors, or marinas enormously benefits developers, the local tax base, and investors in sea side property. Federal regulation of these activities has always been important due to the interstate character of coastal waters and the commerce clause of the Constitution. State governments have both a sovereign interest in the submerged lands and in the development of coastal resources for fisheries, ports, transportation development and the promotion of recreation or tourism. Local governments have bonding, zoning, and taxing authority in coastal counties. Due to the real estate values of coastal propoertie, often a substantial portion of municipal and state revenues are derived from the coastal zone.

Since colonial times the coast continues to be the most heavily settled areas of North America. Currently over two-thirds of the U.S. population lives within 50 miles of the coasts. Over 60% of the national fisheries catch, by weight, is dependent on near shore, inshore, or estuarine waters including crab, clams, oysters, salmon, or shrimp. Migratory and native shore birds, water fowl, and wading birds all depend upon the extensive marshes and mud flats of the Atlantic, Pacific, Gulf and Great Lakes shorelines for nesting or feeding.

Migratory birds and their coastal habitats are protected under an international Treaty among the United States, Canada, and Mexico. Marine mammals frequenting the coastal areas are also protected by federal law including the breeding habitats of seals, sea lions, manatees, porpoises, or whales. In Florida four varieties of sea turtles nest annually on beaches while tropical mangrove forests dominate the quiet bay waters. In California elephant seals and sea lions nest on shore. Sea grass beds from Alaska to the Gulf and up to Maine are the nurseries of the small fish that sustain commercial and sport fisheries.

Land in those areas immediately adjacent to the ebb and flood of the tide were treated differently by the law due to English legal precedents. In all states the land lying between the high and low tide lines is considered "sovereign land." This means that regardless of private property titles, or actions of legislative bodies, the land between the tides can never be fully owned in fee simple absolute as is other real estate in the United States. Tidelands are "encumbered" with restrictions referred to as a "public trust" that legally protects these lands for the common good. This protection furthers two competing benefits, the promotion of commerce and citizen access to hunting and fishing. Private property rights in tidal land is severely limited by this public trust held by the states.

Coastal zone management seeks to balance natural and cultural amenities peculiar to sea side regions because of mounting ecological problems. These problems arise from the pressure of increased population density, continuing consumption of electricity from polluting energy facilities, the location of land fills for garbage disposal, dumping of industrial chemical and municipal wastes and second-home development. The intensity of these competing uses almost destroyed the ecological basis of marine productivity in all but the most remote locations. Serious declines in wildlife due to the destruction of coastal habitats represents a serious threat to biodiversity, ocean fisheries, and climate.
Contact

J. Siry,
Sources
S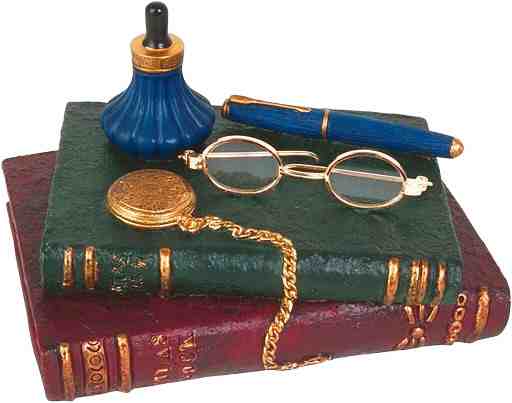 tudy Guide
Date: 19 January 2008