A Sense of Place, naturally speaking.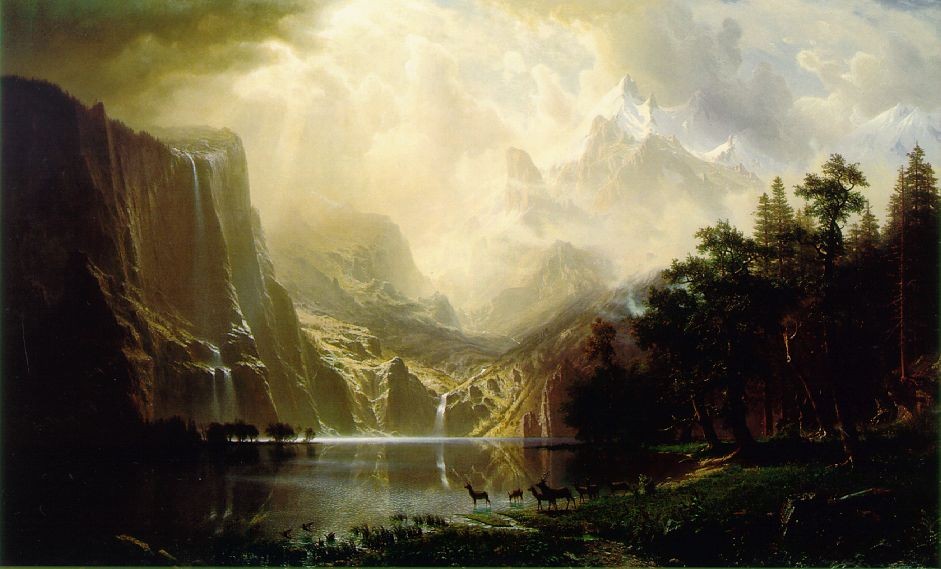 Albert Bierstadt (1830-1902), Among the Sierra Nevada, 1868.
oil on canvas, overall: 72 x 120 1/8 in. (183 x 305 cm) frame: 96 1/4 x 144 3/8 x 7 1/4 i
Smithsonian American Art Museum
Bequest of Helen Huntington Hull, granddaughter of William Brown Dinsmore, who acquired the painting in 1873 for "The Locusts," the family estate in Dutchess County, New York State. 1977.107.1

The Sierra Nevada was known from 1860s the as the "range of light,"when Bierstadt captured their prominence in this and several paintings done from his sketches, establishing a sense of their mass, change in relief, landscape features, and stunning vistas'
The above painting could also be called: "light dancing on water" is Shanto in native American languages.

Places | Places are geometric and have dimensions | Altered states of being | A field for a game

Not withstanding a problem with defining the word nature, the study of places involves crucial details where history, biology and geography converge. As with many details, important subjects cannot be ignored when considering the biological facets and geographical features that are foundations of comprehending how places are constructed and maintained by the organisms. In so doing living creatures help to construct and maintain the very living features that we use when distinguishing one terrain from another. For example, the chaparral forest differs from the grasslands due in large part by the way organisms compete and cooperate in these different terrains, even when the climate of these places may be the same.


California coastal chaparral, Madrone amidst rhododendron trees, contrasted with Oregon coastal rain-forest's timbered terrain.

Understanding ecological history and historical geography are basic bodies of knowledge for people to better comprehend a place, from an informative perspective. So too are maps, diaries, notebooks of naturalists; or the lives of artists and their paintings, photographers and their photography, film and video.

Both of these subjects approach natural history from meshing functional and spatial perspectives. That viewpoint informs and requires us to look carefully at the many definitions of nature. In coming to terms with variable and shifting definitions, an ecological imagination can help people to see how landscapes' many hidden facets influence settlement and how those occupations stimulate people to alter their behavior with respect to cherishing terrains.

Doorway in Chaco Canyon, the nation's oldest & largest urban ruin.

Ancient origins of places as an ideal of reverence for sacred places.

American scenery, appreciation of vistas in art.

Aldo Leopold's special place.

With respect to space from an artistic perspective, for example, Albert Bierstadt was a native of New Bedford Massachusetts, but studied in Düsseldorf, Germany from 1853 - 1855, having first seen the western US just before the Civil War (1860-61). His painting The Rocky Mountains was first exhibited in New York City, in 1863, to enthusiastic crowds and great fanfare. His artistic celebrity waned in the 1880s but he is credited with bringing the monumental landscape features of the nation's western states and territories to the attention of a wealthy, literate, urbane, and sophisticated, eastern audience.
Thus it is hard to sense the values of a place without seeing it and in the nineteenth century, before photography began to revolutionize landscape painting, works by artists such as Thomas Cole, Asher Brown Durand, Frederic Edwin Church, Martin Johnson Heade created an American landscape aesthetic. This movement to portray the varied places of the nation in their natural settings brought spiritual ideals and natural history together in the formation of a widespread and high regard for a sense of place. For the many citizens of the nation who could not actually experience the the West, these artists brought home the scope, scale and extent of the scenic beauty inherent in places of outstanding geographical and geological features. This was the period when certain western landscapes –noted for the value of their scenery– were being set aside for their scenic monumentality, role in protecting the watershed, or public use and enjoyment.
For instance, until Bierstadt's 1866 painting of Yosemite Valley, few if any of his fellow countrymen could have understood the many scenically derived reasons that Frederick Law Olmsted Sr. had suggested deserved protection and that the entire valley and forests should be protected. President Lincoln, in 1862 had granted to the state of California the core of Yosemite Valley as a preserve – to be protected for visitors to see such renowned scenic wonders of this place for all time.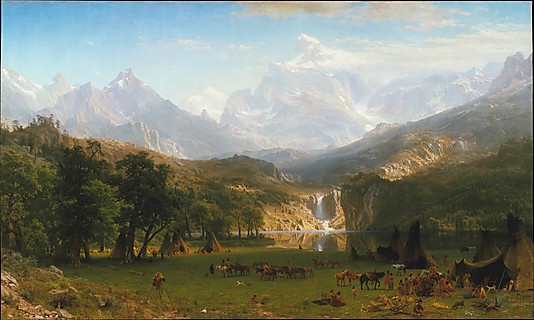 The Rocky Mountains, Lander's Peak (1863), Metropolitan Museum of Art. New York City.
Nature as viewed by other authorities

A Sensitivity to Places : AESS2014, Pace University, New York, June 14, 2014.

Equinox Moonrise over Penobscot Bay, Maine.

---
Terry T. Williams | Gerald Durrell | D. H. Lawrence | Arnold Pacey | Tim Radford | Norris Hundley | Mary Austin | John Wesley Powell | Wallace Stegner