There are three qualities of any scientific knowledge.
Science is an "inquiry into the character of the world around us." The Quark & the Jaguar, p. ix.
diagram | 3 part schematic | empirical data | model | discovery | heuristics
---
The relation of science --or scientific knowledge-- to other ways of knowing is critical to our making sense of the world. This relationship may be visually represented as a cube: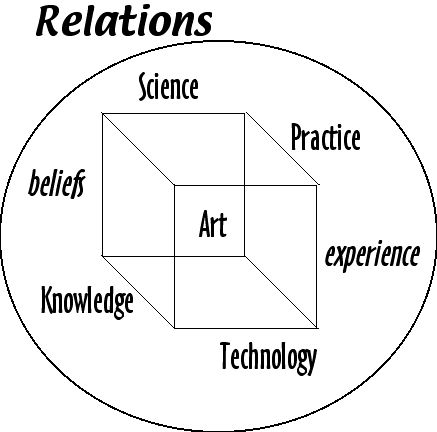 Art, according to Plato is the craft that we skillfully exercise in creating a second nature within the natural world that has been bequeathed to us.
---
What if it, that is to say reality --the actual facticity of existence-- is unsensed?

Radiation is undetected by our senses, so by what means do we know that it comes in three varieties?
| | | |
| --- | --- | --- |
| Reason | or rationality is the ratio between the means to know and the meaning of concepts with respect to the purpose of knowledge. | |
| Empiricism | involves the testing of assumptions by means of experimental evidence that can be tested, refuted, and repeated by others. | |
| Heuristics | or the use of formulas, models and symbols to discover the not so obvious facets of actual reality. Any revealing means. | |
Science Index | Global Warming Index | Nature Index | Research sites | Genes
"One aim of the physical sciences has been to give an exact picture of the material world. One achievement of physics in the Twentieth Century has been to prove that that aim is unattainable. There is no absolute knowledge and those who claim it, whether they are scientists or dogmatists, open the door to tragedy. All information is imperfect. We have to treat it with humility. This is the human condition; and that is what Quantum Physics says. I mean that literally."
Jacob Bronowski, The Ascent of Man, Little, Brown & Company, New York, 1976
Take for example the Bohr model of the atom.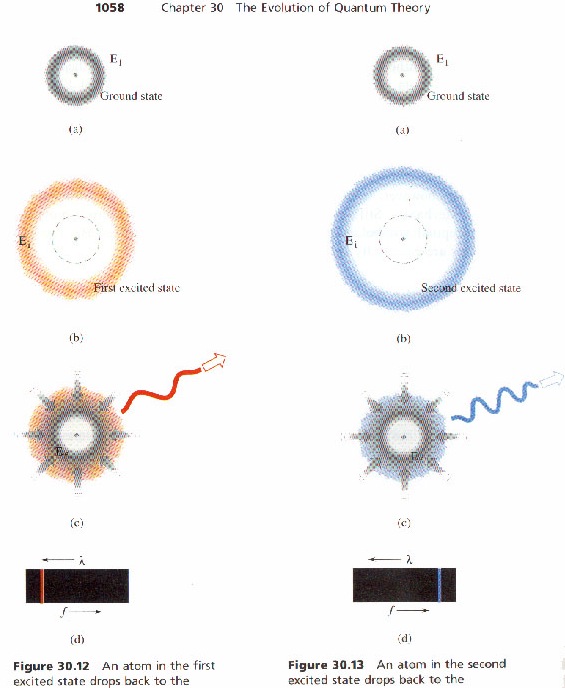 'Bohr atom' derived from diagrams and explanations in Bohr's paper of 1913.
"Let us examine an object with the best tool we have today, the electron microscope, where the rays are so concentrated that we no longer know whether to call them waves or particles. Electrons are fired at an object, and they trace its outline like a knife-thrower at a fair. The smallest object that has ever been seen is a single atom of thorium. It is spectacular."
Jacob Bronowski, The Ascent of Man, Little, Brown & Company, New York, 1976.

Atoms are almost as old as the origins of time; they got their energy from the Big Bang about 13.7 billion years ago. Sometime in the first three minutes of the Big Bang, all the basic stuff that atoms are made of existed. But things had to cool for about 300,000 years before atoms could form.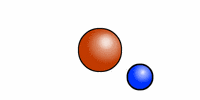 Then, a proton could capture an electron, and form hydrogen. Some helium was formed then, too, and a scattering of other kinds of atoms but none heavier than lithium. Even now, after star furnaces have produced heavier elements for eons, hydrogen still makes up about 75% of the Universe's atoms. Helium comprises about 24%, and all the other atoms make up the remaining 1%.
You an I inhabit a world far removed from the dimensions of quantum foam depicted here.

microcosm

Quantum foam

Quarks

Neutrons
Atoms
Molecules

Cells
Macrocosm

the length - width - & depth of our world is here
For quantum dynamics in subatomic particles, see the ideas of:
Feynman, Gell-Mann, Einstein and Bohr.

facticity: meaning, the quality or state of being a fact.
Etymology:
French or German; French facticité, from German Faktizität, from Factum fact, from Latin factum
Date: 1945
The relation of scale to powers of ten.
Dubos | Geological Time | Darwin | Technology | Science Index