Terms defined:
A Meme is an element of a culture or system of behavior that may be considered to be passed from one individual to another by nongenetic means, especially through imitation.
See mimetic, from the Greek word meaning: imitation of

When the British scientist Richard Dawkins coined the word meme in his 1976 book The Selfish Gene, he wanted a word like gene that conveyed the way in which ideas and behavior spread within society by other than strictly genetic means.
Since then, the word has been picked up to describe a piece of information spread by e-mail or via blogs and social networking sites.
A meme can be almost anything—a joke, a video clip, a cartoon, a news story—
Defining other vocabulary terms to know
Plate tectonics, the concept that the Earth's surface is fractured into several internally coherent, but different blocks of either basaltic or pyroclastic and sedimentary terrains.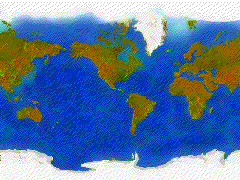 fracture zones are those areas of a large or small plate that --as a block of that plate-- break or slide apart from the adjoining mass at a different rate of speed than the entirety of the parent plate.
transform faults are associated with slippage and fracturing along a boundary, where neither one plate nor another --adjacent-- plate has any discernible vertical movement; and instead the forces push each block past the other. The stress of this lateral collision creates fault systems where seismic activity and earthquakes periodically relieve the stresses of one mass of rock grinding past another.
subduct, subduction: the term for one plate slipping under [sub], or going [duct] down, or moving beneath another.
Convergent plate boundaries are a characterized by subduction zones that are related to island arcs or hot spot activity where the melting of the plate going under an adjacent plates brings molten rock to, at, near or over the surface features of the landscape.
Divergent plate boundaries are areas associated with spreading, usually sea floor spreading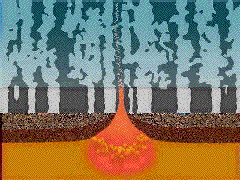 as in the East Pacific Rise, the Mid Atlantic Ridge, or as in the case of Iceland and the Great Rift Valley of East Africa these areas where plate boundaries are separating can occur over land. In these regions where plates separate (as opposed to coming together or converging) are forces that release magma from below the surface and extrude lava. As the lava solidifies on either side of the rift each side of the fracture moves apart from the other side of the magma well. This existence of an ever growing displacement of lava is the primary cause for the movement of one massive plate or block away from another at differential rates of divergence (different speeds at which the plates move out and away from one another).
reliction and accretion
accretion is a term for the deposition of sediment along a shore or added material

reliction is a term for the erosion of a shore, or loss of land.
Edge of the Sea, an overview of concepts, themes and terms.