What enables any technology & technique to spread?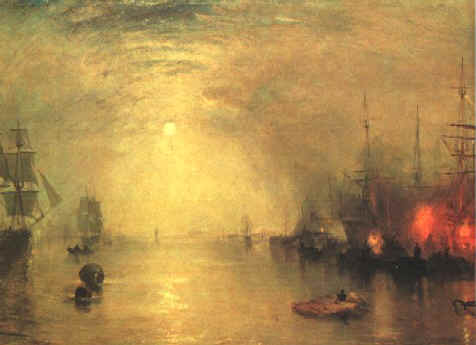 Joseph Mallord William Turner, Keelmen Heaving in Coals by Moonlight, 1835.
How much does technology influence the politics, society and landscape of our world?

"Not surprisingly, the Holy Grail of superconductivity research is finding a 'room temperature superconductor,' which requires no cooling whatsoever. . . . There is no Moore's law for superconductors which makes reasonable projections possible."
pp. 273-276.
Military | magnetic levitation | nanotechnology | contraceptives | biotech | fracture
| | |
| --- | --- |
| | |
| Shanghai Maglev train attendant | Maglev train , 2003 |
But several countries, even without room temperature superconductors, within the next ten years will be building maglev trains to connect their main cities ....a maglev train can travel 450 to 500 kilometers per hour ....except that their magnetic coils consume large amounts of power.

Kaku, pp. 276-277.

Military | magnetic levitation | nanotechnology | contraceptives | biotech | fracture
How the military policy for harnessing new computer technology reshaped our society.
This is one of the earliest computers called The ENIAC 1, built for the Army in 1945 at the Aberdeen proving grounds. As the first digital compute, "Electronic Numerical Integrator and Computer"ENIAC was a government investment in applied science for strategic purposes. The Army Ordnance Department wanted a more efficient way to calculate ballistics tables for artillery during World War Two. The machine was completed in 1945 and was turned off October 2, 1955." The builders believed that to reduce the number of vacuum tubes required, ENIAC used decimal arithmetic to reduce the cost and increase the reliability." History of ENIAC

DESCRIPTION OF the machine: ENIAC was over 100 feet long, circling a room 30 feet by 50 feet. It was 10 feet high and about 3 feet deep.

The ENIAC contained over 18,000 vacuum tubes and programs had to be physically wired into the computer. The ENIAC weighed about 30 tons and was used to integrate ballistic equations and calculate trajectories of naval shells.

The ENIAC was completed in 1945 and remained in use until 1955. The original cost of the system was about $486,000, at a time when modes homes cost $8,000 to $10,000.

source: History of Computing, web site .
digital
analog
bifocal
binary
byte
transistor
semiconductor
superconductor
Military | magnetic levitation | nanotechnology | contraceptives | biotech | fracture
Technology as technique: the formulation of industrial policy

"What is driving the MEMS market are the same etching techniques that were first pioneered by the microchip industry. Instead of etching millions of transistors, scientists are now etching tiny sensors and motors onto silicon wafers. In addition, tiny X-ray beams are being used to etch polymer, which can be electroplated to create metallic molds."

"One of the people backing MEMS technology is Intel cofounder Gordon Moore, who coined 'Moore's law.' He says, 'It took a long time for the transistor to have an impact. MEMS is really an intriguing technology, and I believe it will have significant impact on the next century."
Michio Kaku, Visions. p. 269-270.
Intel's cofounder, Gordon Moore.

On April 19, 1965 Electronics Magazine published a paper by Gordon Moore in which he made a prediction about the semiconductor industry that has become the stuff of legend.

Known as Moore's Law, his prediction has enabled widespread proliferation of technology worldwide, and today has become shorthand for rapid technological change.

". . . it will have a significant impact in [this] century."
Military | magnetic levitation | nanotechnology | contraceptives | biotech | fracture
Contact

Michio Kaku,
"How far can we develop this technology? One active area of research is cloning ....cloning is actually found everywhere."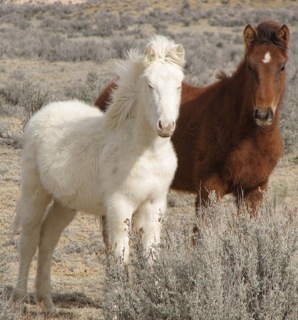 "Although plants are easily cloned, the cloning of mammals has always eluded scientists.
"In doing so, Wilmut's team [Ian Wilmut of the Roslin Institute in Scotland.] disproved a 'law' of nature often quoted in textbooks. that mature cells, once differentiated, cannot revert back to an undifferentiated, embryonic state.... But the moral dilemmas posed by cloning pale in comparison to those raised by genetic engineering of humans. Cloning only produces a carbon copy of an individual, genetic engineering promises the ability to change the human genome and hence the human race."
"...infinitely more difficult to improve upon it."
p. 226.
Military | magnetic levitation | nanotechnology | contraceptives | biotech | fracture
Hydrogen fuel cocktail mixes vinegar and bacteria
The latest recipe for clean-burning hydrogen fuel is a dash of vinegar, a pinch of electricity and a smidgen of—bacteria. Pennsylvania State University researchers say they have improved a technique for harnessing bugs called exoelectrogens to munch acetic acid (found in vinegar) into protons and electrons, which collect on opposite sides of a so-called wastewater fuel cell. When zapped with as little as 0.2 volts of electricity, the two components fuse into hydrogen gas. Because organic matter such as cellulose and glucose yields acetic acid when fermented, the research team proposes that the method could generate hydrogen to power cars and buses without relying so heavily on natural gas or other carbon-releasing fuels. "It's crossed the line from a science fair project to feasible technology," one of the researchers told Wired News. Or maybe not: technology experts told National Geographic News that the system so far produces too little hydrogen to make much of an impact.
Earth and Environment selections from Scientific American
Military | magnetic levitation | nanotechnology | contraceptives | biotech | fracture
Media examined:
Marshal McLuhan on Understanding Media; ABC Australian Broadcasting Corp. 27June 1979, interview. Media as a service that structures "awareness."
"The medium is the message." This enigmatic comment was suggested by McLuhan to mean that the influence is everywhere such that we may easily lose site of what an instrument is doing by looking at all the gadgets that deliver images, sounds and writing to our minds, that the way information comes to us affects what we think these forms mean to convey.
By that we mean the photograph is not merely a snapshot; the film or video is not a mere slice of reality over time, but like the voice transited over electrical wires or wireless means –there remains still another context to examine that informs us in a more obscure, but no less telling and influential way.

JVSiry
Art Source explained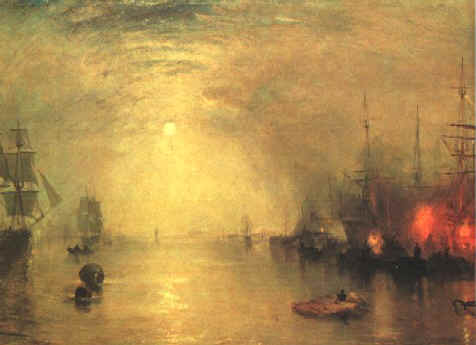 On England's River Tyne, near the mining city of Newcastle, stevedores called keelmen transfer coal from barges, or keels, to oceangoing vessels. The harsh glare of the workmen's torches contrasts with the funnel of creamy light emanating from the moon. Critical opinion about Turner's unusual nocturne was divided. One reviewer observed: "It represents neither night nor day, and yet the general effect is very agreeable and surprising.'
This North Sea view—a familiar sight to the British public—reveals sooty, modern industry chilled by the colors of a winter's night.
Commissioned as a pendant to Venice: The Dogana and San Giorgio Maggiore and shown at the Royal Academy in 1835.
"The Keelmen of Newcastle"
Edward Raymond Turner
The American Historical Review, Vol. 21, No. 3 (April, 1916), pp. 542-545.
Military | magnetic levitation | nanotechnology | contraceptives | biotech | fracture
Authors:
Pursell | Pacey–World | Postman | Head | Tenner |Pacey–meaning| Eberhart | Snow | Kaku | Boulding | Delillo | Kranzberg
| Postman–Tech | Postman–Television |