When writing about any topic it is very important for you to convey:
Who, What, When, Where and How something important happened.
---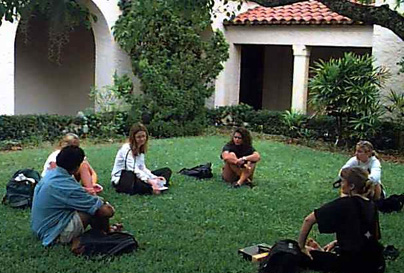 Either explicitly or implicitly any writing informs the careful reader.
Comparing how different use of language alters the meaning of words:
| | | |
| --- | --- | --- |
| A: | One | explicit, meaning of the exact words. |
| B: | Two | implicit, meaning is inferred from text. |
| C: | ? | elicit, to gain a desired response. |
These two words are antonyms, that is, one is a verbatim recall as opposed to two which suggests any meaning as being open to some interpretation.
Explicit is derived from explicate clearly stated inherent in the meaning and thus unambiguously demonstrated in the text.

Implicit is derived from implied, meaning reading between the lines understood generally from context of the words used.

elicit, to provoke a reaction or derive some desired response from an expression of thoughts. The importance of stories here is crucial.
Important information should be explicitly stated in the essay: the thesis, the theme and the conclusion must be explicit!
---
Whether implicit or explicit, consider these five universal factors as necessary to cover in any informative writing.
An intelligible structure arises from the focus on:
Who | What | When | Where | How
---
Who says this and their level of authority is?
What are they saying and of what importance is your focusing on that?
When did they say it; in what period did it occur? For how long did it last?
Where is this being said, where are these authorities from, or where did it occur?
How do they say it (voice, emphasis, tone) and how do they argue (present evidence) their case?

Terms | Glossary | Word webs | Basic vocabulary | Advanced Vocabulary | Antonyms | Synonyms | obscure words
---