Themes are broad descriptive statements not like the more focused and defining statement which is a thesis.
Theme | Thesis | Invention | Writing
Definitions of terms when writing essays:
Theme the substance that holds all of the examples and discussion together in a written work be it a paragraph, poem, short story, article or novel.
"The underlying or essential character of a work of any subject of an artistic expression."
In the expressive arts, writing or discourse a coherent and recognizable focus of the work upon which the details hang together. Themes are strings creating a mesh.
A short composition, is also a theme.
Thesis a statement of the purpose of any writing. A succinct and focused explanation of the intent, scope and importance of what you are writing. Frequently an opening statement that limits and reveals simultaneously the breadth and depth of a writing.
"a proposition advancing a position, point of view or idea."
from the Greek word (verb) meaning to place as in place an idea before someone to think about.
• More on themes and thesis contrasts.
Theme | Thesis | Invention | Writing
Invention the act of creating something. To initiate a process by which some other distant goal is achieved.
Intelligent use of language is called rhetoric and is critical to accurate expression.
All writing begins with pre-writing and then a session for invention. Writers often say that writing may be a process that is a solitary and lonely task of rewriting until most anyone reading what we write may understand what we have said.
That is why the conversation among the quick and the dead is the core of written discourse, because the past is actually, always with us.
Writing is a way of expressing something we have thought about to others. It can be based on totally imaginative experiences, or our writings can be an explanation of meaning that arises from facts,or from widely accepted fictions. All good writing emerges from reading and research, even fictional writing requires research. By basing what we say on what has been said we enter a conversation--called a discourse.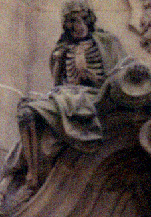 Writing, proper writing is actually a discourse with the dead about how we may keep from dying without ever having literately commented on our situation, or the condition of others. Great writing reflects the human condition; discovering––in even the mundane diversity of every situation––universal themes hidden beneath the peculiarities of the humanity's myriad situations.
Some stories as some books connect us to the dead because when one reads Homer, one may begin to imagine they are speaking to a ghost of a dead Mycenaean, Hellene poet whose voice still evokes images in our mind of the fallen and the slain warriors who perished in the sands of Ionia three thousand years ago during some "rosey fingered dawn."
Miami-Dade C. C. Library, 28 February 2007.

Theme | Thesis | Invention | Writing
More about a thesis statement.
Hunter S. Thompson on writing.
Science Index | Site Analysis | Population Index | Global Warming Index | Nature Index | Brief | Genetics
Index to genetic's related topics